Estimated read time: 1-2 minutes
This archived news story is available only for your personal, non-commercial use. Information in the story may be outdated or superseded by additional information. Reading or replaying the story in its archived form does not constitute a republication of the story.
SAN BERNARDINO, Calif. (AP) -- A small plane headed to Henderson, Nev., crashed Friday on a freeway at the crest of the Cajon Pass in San Bernardino County, killing an airman stationed at Hill Air Force Base in Utah.
Lt. Col. Raymond Roessler was flying a single-engine Piper PA-28 and talking to air traffic controllers in San Diego at 12:42 a.m. when they lost communication, and the plane vanished from the radar, Federal Aviation Administration spokesman Ian Gregor said.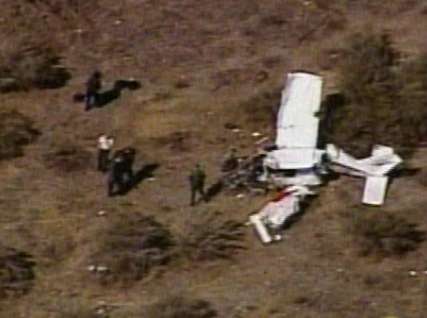 Roessler was the only person on board and apparently did not issue a mayday, Gregor said.
Roessler was assigned to the 309th Maintenance Wing at Hill Air Force Base.
Ogden Air Logistics Center commander Maj. Gen. Kathleen Close said losing Roessler is a tragedy and that the Air Force will rally around Roessler's family to provide support.
Roessler's plane took off from Long Beach, Calif., and was headed to Henderson, Gregor said.
Shortly after 6 a.m., a wrecked plane was reported on Interstate 15, county Fire Department Supervisor Karen Humphreys said.
The plane crashed on the expansive, hilly median between the north- and southbound lanes. Television news footage showed a plane with a shattered cockpit and torn-up wing.
There was no fire. One person was found dead in the wreckage, she said.
Interstate 15, the main road between Los Angeles and Las Vegas, was not closed but traffic was slowed for hours and backed up for several miles because of gawkers.
The cause of the crash was under investigation but there were reports of fog, heavy wind and rain in the area in the early morning.
"With the weather conditions, it's very possible that was a contributing factor," county sheriff's spokeswoman Cindy Beavers said.
(Copyright 2007 by The Associated Press. All Rights Reserved.)
×
Most recent Utah stories