Estimated read time: 4-5 minutes
This archived news story is available only for your personal, non-commercial use. Information in the story may be outdated or superseded by additional information. Reading or replaying the story in its archived form does not constitute a republication of the story.
HOLLADAY — Jennifer Graves is feeling all the emotions: sadness over the loss of her nephews, anger at her brother, and the questions of why and what if?
On Sunday, Feb. 5, her brother Josh Powell murdered his children and killed himself after igniting gasoline he'd spread throughout his home. Investigators say the killings were planned and intentional.
Jennifer and her husband, Kirk Graves, met with reporters for two hours Wednesday, putting the blame squarely on Josh Powell, citing the controlling behavior of their father Steven Powell as contributing to his downfall, and revealing their plan to eventually care for the children.
While Jennifer Graves admits she would not have been surprised if Josh had kidnapped his sons, she never imagined he was capable of killing them.
Related:
"All I could hear was something about 'fire,' 'explosion,' 'boys,' and then we were both hysterical," she said, recalling the moment she and her husband found out what Josh had done.
Her broken heart is not for the death of her brother, but the loss her nephews of Charlie and Braden — boys Chuck and Judy Cox hoped she could someday adopt and raise as her own.
"We expected that they would be a part of our family, like an intimate part of our family, not just our nephews," Jennifer Graves said. "Right now, we are mourning that loss."
Jennifer and her husband said they felt comfortable with the way things were going, that the judge had given Josh Powell no reason to feel hopeless.
"I think he knew those tests were not going to come back in his favor," Kirk Graves said Wednesday.
"I think he knew that he was going to lose those boys permanently. I think he had indications that he would be arrested on the murder of their mother. He couldn't deal with that; he couldn't deal with the loss of control and he figure he'd hurt everybody."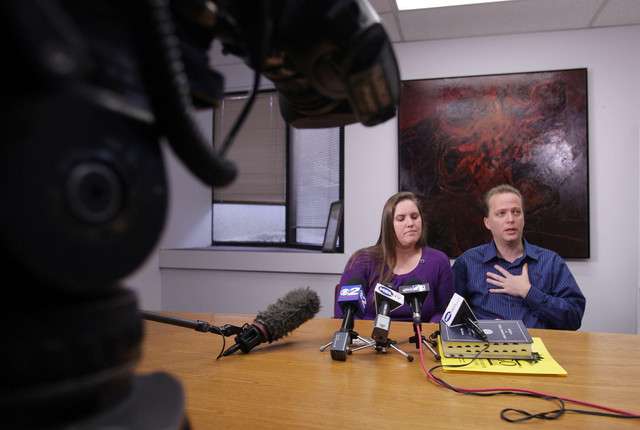 Jennifer Graves said she had witnessed a gradual decline over the years in her brother's behavior. She said he was "a bit of an odd duck," but she felt he was making progress after moving to Utah in the fall of 2003 and getting away from his father, Steven Powell.
Once in Utah, he would spend hours on the phone with his father, multiple times a week, she said.
"If anyone knows anything, it would be Steve," Kirk Graves said, regarding Susan Cox Powell's disappearance. "When he finds a motive, then he'll talk."
Kirk Graves said there are "uncanny" parallels between the lives of Josh Powell and his father, including how they treated the women in their lives, evidenced by divorce documents filed in a Spokane court in 1994.
Pornography was a big part of that declaration then and obviously continued to be so, according to Kirk Graves. But he doesn't think Josh Powell suffered from any mental deficiencies.
"I don't think you can be unstable and plan it out the way he planned this out," he said. "This was not him being incapable of dealing with life. He planned, plotted and executed this thing very, very carefully."
Kirk Graves said that Josh and Jennifer's mother, Terri Powell, "is taking it very hard." He said she is distraught about losing her son and grandsons.Terri Powell has not spoken publicly about the deaths of her son and grandchildren.
Most of Jennifer Graves' relatives have blamed the police, courts and the media for the double murder-suicide Josh carried out on Feb. 5. But Jennifer believes the only person who deserves any blame is Josh.
---
People always have a choice. You do not have to murder someone to make your statements, to make your point.
–Jennifer Graves
---
#graves_quote
"They are absolutely in denial," Graves said. "People always have a choice. You do not have to murder someone to make your statements, to make your point."
She said it was difficult to be estranged from Josh, especially when he seemed to be all alone. But she could not support him, believing he had killed his wife, Susan Powell. Now, any thoughts of feeling sorry for him are gone.
"After hearing the utterly brutal manner he killed his sons — there may be a time I feel sorry for him again — but I have a hard time feeling those feelings for him right now," Graves said.
Funeral services for Charlie and Braden Powell are planned for Saturday, Feb. 11, at the Life Center Church in Tacoma, Wash. Services begin at 11 a.m. and will be streamed live on ksl.com.
----
Contributing: Jennifer Stagg
×
Photos
Related stories
Most recent Utah stories