Estimated read time: 6-7 minutes
This archived news story is available only for your personal, non-commercial use. Information in the story may be outdated or superseded by additional information. Reading or replaying the story in its archived form does not constitute a republication of the story.
SALT LAKE CITY -- Family and friends were in shock Sunday after an explosion at a Washington home took the lives of Josh Powell and his two sons, Charlie and Braden.
The tragedy came amidst a heated custody battle between Josh Powell and family members of Susan Powell.
"There were so many plans, so many thoughts," said Kirk Graves, Josh Powell's estranged brother-in-law. "Everything is turned upside down."
Graves and his wife, Jennifer, who were friends of Susan Cox Powell, had plans to someday help raise Charlie and Braden Powell, who were 4 and 7 years old. Temporary custody had recently been granted to Susan Cox Powell's parents, Chuck and Judy Cox.
A spokeswoman for the couple posted a comment on Twitter Sunday night that read, "Chuck and Judy Cox need time. Thank you for giving them time, privacy and prayers."
Graves said he did not want to believe it could have been the Powell children in the explosion. He said his first thought was that it had happened at the house of a neighbor; there was no way it could have been Charlie and Braden.
"The boys ... probably the biggest tragedy of this whole thing is that we'll never see them grow up," he said.
In two years since Susan Powell disappeared Dec. 7, 2009, Graves said there had been some "what-ifs" about Josh Powell's involvement in the case, but he had not believed Powell could "do something like this."
"We're just stunned," he said. "This whole nightmare for two years has been a soap opera of the worst proportions … and honestly I don't even think this is really the end of everything. It's just been a roller-coaster ride of ups and downs and unexpected twists and it all focused on Josh."
Additional Coverage:
Graves said it will take years for people to come to an understanding of what happened in the time between Susan Powell's disappearance and the explosion Sunday. There are still unanswered questions.
"We still don't know what happened the night Susan disappeared," he said. "Josh, has, I think, permanently denied us an opportunity to ever really know."
The boys had been dropped off at Josh Powell's home by a case worker for a regularly scheduled and supervised three-hour visit. The father had recently learned that custody would not be a possibility until at least July. Josh Powell was also ordered to undergo a psycho-sexual evaluation.
Some close to the Powells said the boys may not have wanted to make the fateful trip to visit their father.
Former daycare provider Debbie Caldwell made at least two trips to Washington — at Thanksgiving 2011 and in January — to visit the boys. At the last visit, she said she told them to, "Give me a hug, because I might not see you again for a while."
She said Chuck Cox had told her Charlie did not want to see his dad Sunday, but because of a court order, he had to.
"I know the boys are with her, they're with her," she said, referring to her belief that Susan Cox Powell has been reunited with her two boys in death. "I hoped it would not end like this."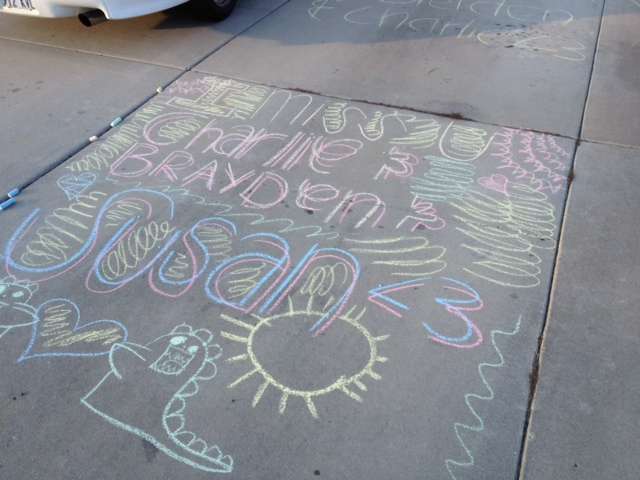 The events surrounding the custody battle may have been what pushed Josh Powell over the edge, said Kiirsi Hellewell, a close friend of Susan Powell.
"Josh always has to be in control," she said Sunday. "To him, the boys were his property. To him, it was all about getting control back."
Hellewell said she believes Josh Powell has something to do with her friend's disappearance.
"I never wanted to falsely accuse him, but I believe Josh did it," she said.
"I want to know where Susan is and I want all the details of what happened to her to come to light," Hellewell added. "He is the ultimate selfish coward. If he wanted to kill himself, he could have done that. But he murdered two innocent babies. I can't believe he'd do something so evil."
The news of the death of the Powell children came as a shock to their West Valley community.
"It is such a sad tragic day today, and to see that selfish act … that cowardly act, it boils your blood," said West Valley Mayor Mike Winder. "It really hits home to those who knew them. They were more than just a story on the news to them; they were real neighbors, and real friends and real children in the neighborhood, and to see them die tragically after the tragic disappearance of their mother is really heartbreaking."
Tristan Trujillo, one of the Powell family's neighbors, used to watch the Powell children while Josh Powell worked in the yard and Susan Powell was at work.
Trujillo said she never believed Josh Powell's story about where he was the night Susan Powell disappeared, and she suspects Josh Powell had something to do with her disappearance. She said Powell sometimes told disrespectful jokes about Susan after she disappeared.
Additional Coverage:
"When we were helping them move out … he (joked) about getting a whole bunch of potatoes in a big, black bag and make it fall off of the roof so that (the police) would think the body fell out of the roof," Tristan said.
Other members of the Trujillo family were moved to draw chalk art on their driveway, writing "I miss you, Charlie, Braden and Susan."
The despair that spread among those knew Susan Cox Powell and her two boys only from images in the news was manifest quietly at a candlelight vigil Sunday night in the empty parking lot of a grade school in Kearns.
Prayer. A few words. The singing of the hymn "I am a Child of God."
Vigil organizer Cheyenne Miller put out an invitation on Facebook but was afraid a day owned by the Super Bowl would keep people from coming. But about 50 people came, some offering candles to those arriving without one.
"Any time a child dies they deserve to be remembered for who they were," she said. "To gather the community, even if we never knew them, it shows, it sends a message that we will not let these children be forgotten."
Several spoke to the gathering at Miller's invitation, including 13-year-old Stormee Ryan. "I remember when I was a little girl and I saw her on the news, and that she was so pretty, and that she had gone missing," she said, calling the way the children died "selfish."
"Now that they have been murdered," Hellewell added, referring to Charlie and Braden. "It's hard to believe there is so much hate in the world."
×
Photos
Related stories
Most recent Utah stories