Estimated read time: 2-3 minutes
This archived news story is available only for your personal, non-commercial use. Information in the story may be outdated or superseded by additional information. Reading or replaying the story in its archived form does not constitute a republication of the story.
Jed Boal ReportingAn airplane investment that never really took off turned out to be too good to be true. Now a Draper couple is out thousands of dollars, and the state is accusing two men of securities fraud.
Papers from the Division of Securities outline a business venture gone bust. A charity called "Our Unsung Heroes" had big plans that never got off the ground.
When Forrest and Becky McCoy took out a $15,000 loan to invest in Our Unsung Heroes, they expected a good return.
"It just kind of went down from the time we gave them the money until now," Forrest McCoy said.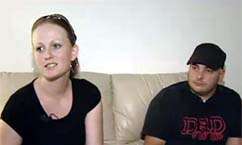 A neighbor, Craig Ostlund, and Paul McSweeney offered monthly pay-outs.
Becky McCoy said, "They were going to pay us more interest than the bank. We figured it would make us an extra hundred dollars a month or so."
The McCoys and another investor were told the money would be used to buy a Taylorcraft L2B airplane off the eBay auction Web site. Flight instructors would offer lessons in the plane. That income would help pay for World War II veterans to go to Washington.
The McCoys were promised a yearly return of 17.5 percent, for three years. After three months the payments stopped. McSweeney and Ostlund gave them the runaround.
"I didn't know what was going on, but at that point I realized it was in my best interest to contact a lawyer because I don't have $20,000 to lose," Becky McCoy said.
The couple estimates they're still out $17,000, and it will take them several years to get back in the black. It's a tough way to learn lessons about investing with your neighbors.
Forrest McCoy said, "Invest in the housing market, not in friends."
The Securities Division says that McSweeney and Ostlund also failed to disclose important information. Both had previously filed for bankruptcy. Both owed money in unpaid civil judgments.
Francine Giani, executive director of the Utah Department of Commerce, said, "Right now this is administrative and violation of the Utah Securities Act."
When Unsung Heroes failed, a separate group, called Operation Hero Flight, stepped in to take veterans on the trip to Washington.
"There was a period of time when we didn't think that the flight would even happen, and it did," Giani said.
Like the McCoys, the Utah Division of Securities still does not know where the money went. McSweeney and Ostlund are ordered to appear in a formal hearing and face fines up to $45,000.
×
Most recent Utah stories