Estimated read time: 2-3 minutes
This archived news story is available only for your personal, non-commercial use. Information in the story may be outdated or superseded by additional information. Reading or replaying the story in its archived form does not constitute a republication of the story.
PROVO -- There is still a lot of work to do, but the new Utah Valley Convention Center is starting to take shape.
Later this spring, the five level facility will be hosting corporate conventions, but it will also give consumer shows, auto shows, bridal fairs, and larger community events a place to meet.
The $41 million convention center is owned by Utah County and is being paid for with several bonds.
The building is state-of-the-art and environmentally friendly, which is a dream come true for elected leaders. They believe it will add $18 million to the economy each year, some of it through out-of-town tax dollars. They also hope it will bring new jobs to the area.
"This will bring in millions and millions of dollars per year in sales tax" said Gary Anderson, a Utah County Commissioner. "Plus it gives exposure to Utah County. It's one of the bricks in our building of economic development."
The convention center, which will be 83,578 square feet, will have an exhibition floor, a ballroom, and several meeting rooms, including a rooftop garden. Commissioner Larry Ellertson says the building was designed to be versatile.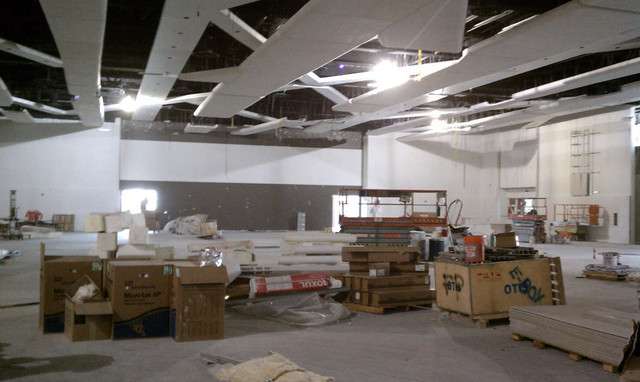 "We've worked with architects and designers in developing this so we have flexibility in the space we have, and we can divide it or open it up and have large meetings or smaller meetings."
"You're going to have an awesome opportunity to host a lot of local events" said Shura Garnett, with Global Spectrum, the company Utah County has contracted with to operate the convention center. "Banquets, meetings, your corporate businesses in town, conventions, trade shows and consumer shows."
Professional and academic associations from Utah County are also showing interest in the facility, according to Danny Wheeler, who is the General Manager of the Utah Valley Convention Center.
"It's allowing them to use Provo and Utah County as a destination that their peers from around the country can come and see what a beautiful place they live in," he said.
And with Frontier Airlines now providing commercial air service to Provo, along with major transportation projects wrapping up, Commissioner Anderson says it will be much easier for people to get to Utah Valley.
"The freeway is going to be done at the end of this year, Frontrunner is going to be done at the end of this year and this is where it's all going to come together, we're just incredibly excited."
County leaders are planning for a grand opening of the convention center, sometime in May.
×
Photos
Related stories
Most recent Utah stories