Estimated read time: 1-2 minutes
This archived news story is available only for your personal, non-commercial use. Information in the story may be outdated or superseded by additional information. Reading or replaying the story in its archived form does not constitute a republication of the story.
SALT LAKE CITY -- The avalanche conditions in Utah's backcountry are some of the most dangerous forecasters have ever seen. They say because of new snow this weekend, an avalanche could trigger at any time.
Forecasters from the Utah Avalanche Center warn people to stay out of the backcountry until further notice and stick to the professionally groomed slopes at the ski resorts. This weekend four snowboarders didn't heed that warning and had a very close call.
The snowboarders were out-of-bounds near Brighton Ski Resort Sunday when they triggered a 5-foot deep avalanche. The slide caught all of them and carried them some distance. Two were partially buried but with help were able to dig themselves free.
Drew Hardesty, a forecaster at the avalanche center, said, "With a very unstable snow pack that we have, with the historically weak snow from the early season, I expect the danger to remain high and extremely dangerous for the next week, if not longer."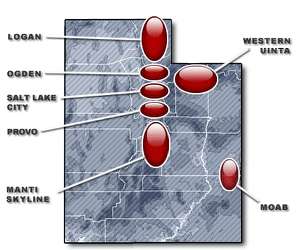 An avalanche warning remains in affect for all of the mountains of Northern Utah, including the Bear River Range, the Western Uintas, and the Wasatch Plateau.
The Utah Avalanche Center estimates that between 60 to 70 percent of all northeast facing slopes have experienced an avalanche in the last 48 hours. Crews will be doing avalanche control work at resorts this morning.
"We have some of the greatest snow safety professionals in the world working in the Wasatch Range," he said. "I have the utmost confidence in their ability to get up at 5 in the morning and knock down the avalanches and create a safe environment for skiing and riding at our world-class resorts."
He says the key to safety is to stick to the groomed runs at the resorts and know the conditions before you head out.
×
Related links
Most recent Utah stories