Estimated read time: 2-3 minutes
This archived news story is available only for your personal, non-commercial use. Information in the story may be outdated or superseded by additional information. Reading or replaying the story in its archived form does not constitute a republication of the story.
SOUTH JORDAN – Four boys went to the store to get some soda and returned home heroes after they saved a woman from a fire that was burning her leg.
With no school scheduled Friday, Luke Sumot, 13, Matai Wilson, 12, Nick Uribe, 13, and Chase Jeppson, 12, planned on having a sleepover Thursday night. They walked to the Walmart Neighborhood Market, at 3706 West 9800 South, after school and happened upon a woman lying in the parking lot next to her car.
"We were coming over here to get some soda and I saw a lady and her foot was on fire," Luke said.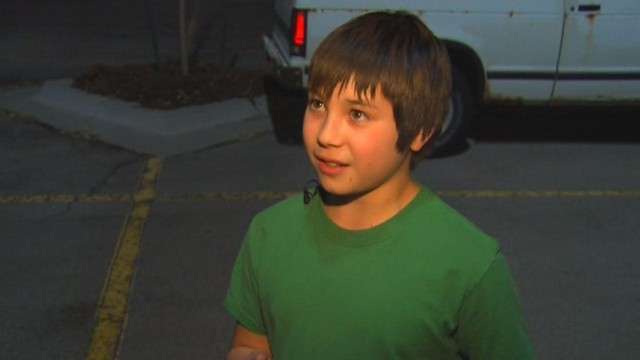 The woman was lying on the ground next to her car, and almost immediately, Matai took off his coat and used it to smother the flames.
"I figured she was on fire, so she needed it more than I did," he said.
The woman's husband came running across the parking lot, telling his wife not to try to stand up and yelling at the boys to call for help. The boys tried using an app on their iPods, but finally used a phone to call 911.
"It makes me feel good, like I'm some type of hero or something," Matai said, although he lost his jacket in the fire. "I couldn't wear it because it was ashy."
The boys said they barely had time to think about what they were doing and that others in the area weren't doing anything to help the woman.
"If we wouldn't have been there or made it in time, it would've burned through her leg," Chase said.
---
She got burned pretty good. She's pretty lucky those boys were walking by. They probably saved her life.
–Lt. Dan Starks
---
Police arrived and the woman was taken to the University of Utah Hospital burn unit with serious burns on her leg, said South Jordan police Lt. Dan Starks.
He said the woman and her husband were from out of state and the fire apparently started accidentally.
"She was clearly a heavy smoker," Starks said.
The woman was wearing jeans over a pair of nylons, he said, and once the ash from her cigarette burned through her jeans and reached the flammable nylons, "they really went up."
"She got burned pretty good," Starks said. "She's pretty lucky those boys were walking by. They probably saved her life."
The boys' parents said they were proud of their sons and planned to them out to dinner to celebrate.
"It's not every day that you hear about something like this," said Russ Sumbot, Luke's father. "He's a good kid. I'm pretty happy. When your kid does something like this, it's pretty cool."
----
Written by Hunter Schawarz and Wendy Leonard with contributions from Sam Penrod.
×
Photos
Most recent Utah stories