Estimated read time: 2-3 minutes
This archived news story is available only for your personal, non-commercial use. Information in the story may be outdated or superseded by additional information. Reading or replaying the story in its archived form does not constitute a republication of the story.
DUCHESNE — News that a stoplight is going up in this community of fewer than 2,000 residents is a big deal.
"I didn't think we'd ever have one," Duchesne resident Erik Wilkerson said Tuesday while eating lunch at Cowan's Café.
The city's first stoplight is slated to go live in March. It will be installed at the intersection of U.S. 40 and state Route 87.
The intersection has become increasingly clogged due to heavy truck traffic associated with the oil and natural gas industry that drives the area's economy. The congestion has led to more than a few crashes and long waits for drivers trying to turn left onto U.S. 40.
"Sometimes you're waiting for like 10 minutes to even get out," Duchesne resident Cameron Nealley said.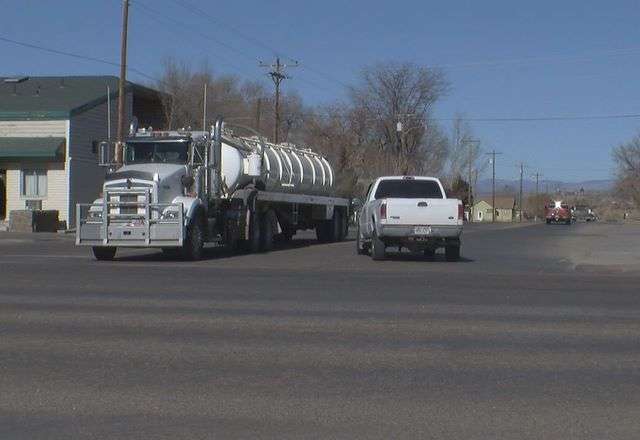 The Utah Department of Transportation has studied the intersection in the past, but found that stop signs were sufficient for traffic control. Last year, UDOT agreed to take another look at the problem at the request of city leaders.
"We did a traffic study in November," said UDOT Region 3 Director Shane Marshall. "It showed that a signal was warranted here. It showed that (the number of) left turns from (Route) 87 to U.S. 40 were very high."
UDOT has budgeted $250,000 for the new light, which will control traffic at one of the two major intersections in Duchesne — the spot where U.S. 40 meets with the state road that leads north to the town of Altamont.
The other major intersection — where U.S. 40 and U.S. 191 meet — travels north and south through Indian Canyon into Carbon County. That intersection is also a concern for residents because of its proximity to Duchesne High School and Duchesne Elementary School.
"But with this traffic signal on the Altamont road, we hope that will slow the traffic down enough that it will help," said Duchesne Mayor RoJean Rowley.
Support for the new stoplight has been nearly unanimous, the mayor said.
"I only had one person tell me that they'd move out of town because of the traffic light," she said. "Most people are very enthused about it."
Back at Cowan's Café, most of the locals said they accept the change, even if they don't necessarily like it.
"It's nicer without a stoplight and with less traffic, but neither of that's ever going to happen," Terry Heaps said.
Email:gliesik@ksl.com
×
Most recent Utah stories