Estimated read time: 2-3 minutes
This archived news story is available only for your personal, non-commercial use. Information in the story may be outdated or superseded by additional information. Reading or replaying the story in its archived form does not constitute a republication of the story.
Amanda Butterfield Reporting Monday was the second day of immigration rallying in Utah. Though smaller than Sunday's march, it was a bigger turnout than police expected.
They expected 300, but several thousand turned out. Even Utah's Attorney General was there, using the rally to voice his opinion on immigration reform.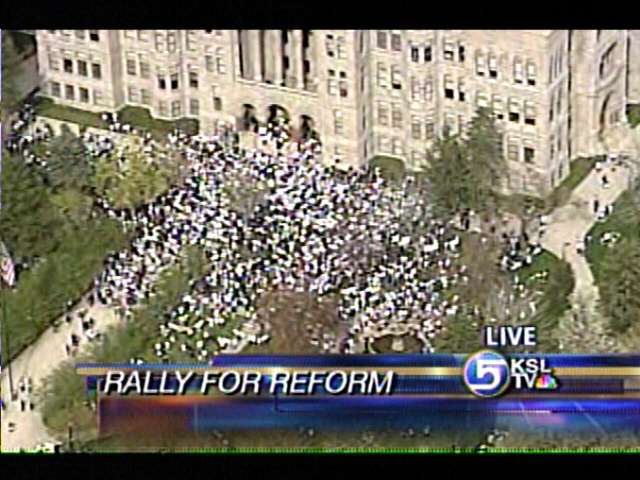 Mark Shurtleff/Utah Attorney General: Many of my fellow Republicans will criticize me for being here. They'll tell me instead of speaking to you, that as the chief law enforcement of Utah I should be arresting you. [That's] not going to happen."
Attorney General Mark Shurtleff had the crowd roaring, telling them that unless they're breaking the law, they can stay. That's what everyone here wanted to hear.
Juliana Rios/West Jordan: "Just like give a chance to everyone, help them make their dreams come true."
On the other side of the City County building, the rally cry was much different.
"No amnesty!"
This group, mostly affilitaed with the Utah Minutemen Project, says if you want to stay here, do it legally.
Darrel Wood/Utah Minutemen: "The people of Utah need to wake up and realize what's happening. These illegals that are waving the American flag, that doesn't change the fact they are illegal."
So just how effective are these gatherings? According to an exclusive Survey USA News Poll for KSL Television, 48% of those polled are more likely to favor tougher immigration laws because of the rallies.
And these rallies aren't doing much to gain sympathy for the Latino immigrant population in Utah. Only 15% are now more sympathetic, 39% are less so.
But numbers aside, those we talked to came out for personal reasons.
Vicki Smith: "It makes me feel better, that I'm doing something."
Salt Lake Police told us tonight that demonstrators were peaceful and the rally was secure. Officers did not encounter any major problems.
×
Most recent Utah stories