This archived news story is available only for your personal, non-commercial use. Information in the story may be outdated or superseded by additional information. Reading or replaying the story in its archived form does not constitute a republication of the story.
Sandra Yi reporting Another group with different opinions on the immigration issue also gathered for a separate rally and march. The group included members of the Utah Minutemen Project.
The crowd was much smaller, with about 200 people showing up. But they were just as outspoken and passionate about their cause.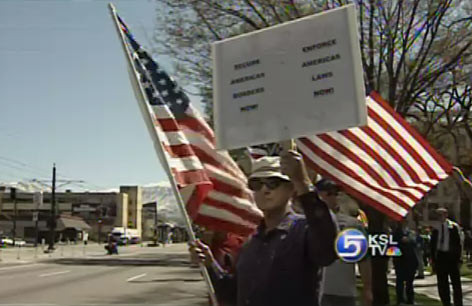 Protesters: "Si se puede".
Protesters chanted 'Yes we can' in Spanish, as another group with a different message, marched past them, on their way to the capitol. They included Utah Minutemen.
Brent Burdette, Utah Minutemen Project: "Get legal or get out. I'm in support of having everybody here in this country as long as they're legal and not hiding."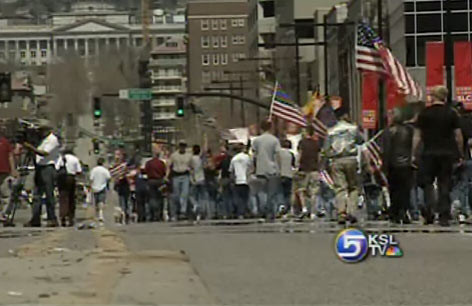 Holding signs and American flags, this group voiced support for legal immigration and protected borders.
Brent Burdette: "It should be a felony if you're here illegally, you should be deported. They need to tighten the border heavily and if you're an employer, you can't hire illegals. That's all there is to it. It has to be a law and it needs to be changed soon."
Kyle Jackson, Pleaseant Grove Resident: "That's the way it should be. Everybody abides by the law and that's how it is. I don't think there should be any give or take in that."
At times, their tough stance stirred lively debate. But demonstrators remained respectful of each other. Minutemen even intervened, when things became heated.
Demonstrators: "Government doesn't do it's job. It's not my fault, it's not your fault. Let's spread out."
One man carried the American Flag upside down, to symbolize America in distress.
Dennis, Salt Lake City Resident: "I'm not a Republican, I'm not a Democrat. I'm an American, and I want my country back."
Fransiska Dastrup wants people to follow her example. Her parents immigrated to the U-S from Holland. Dastrup applied for citizenship when she was 16.
Fransiska Dastrup, Tooele Resident: "That is part of my American dream, and that's the dream for my kids, to be able to stand up and say, 'hey, I am legally here, I pay my taxes.'
Demonstrators weren't discouraged by the difference in turnout. In fact, the Utah Minutemen are organizing another gathering at the City and County Building on Monday to coincide with the "Unity Rally".
×