Estimated read time: 3-4 minutes
This archived news story is available only for your personal, non-commercial use. Information in the story may be outdated or superseded by additional information. Reading or replaying the story in its archived form does not constitute a republication of the story.
John Daley reporting A massive rally and march was held in downtown Salt Lake City Sunday, with a message in favor of comprehensive immigration reform.
"We're here for the U.S. dream you know. We're here for the dream."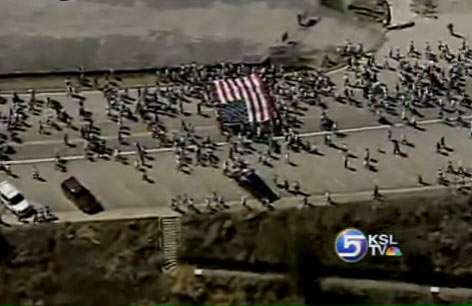 "I've got goosebumps just thinking about it. It's awesome. It's really awesome that so many people have been participating in this."
Tens of thousands of people gather in Utah's capitol city to push for new immigration laws. Organizers say they hoped to help "make history."
Salt Lake City police estimate the crowd today 25,000 people, which would make it Utah's largest march ever.
It was an extraordinary turnout for a movement that appears to be gaining momentum.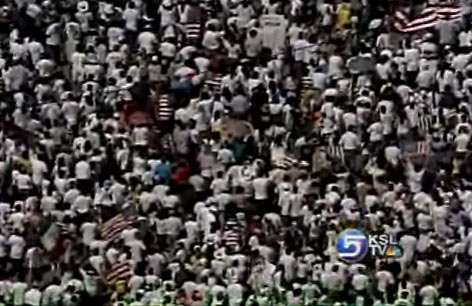 They came streaming into the downtown Salt Lake, filling the heart of Utah's capitol. They arrive in white T-shirts, carrying American flags. They say both are signs of peace and patriotism.
Dolores Paredes, West Valley City Resident: "We want them to know we're all here for one reason. (reporter question: And what's that?) Freedom."
Mike Olmos, Kearns Resident: "I have a couple of family here who are without papers. It's really hard for them to find jobs and we don't want them to go back, of course."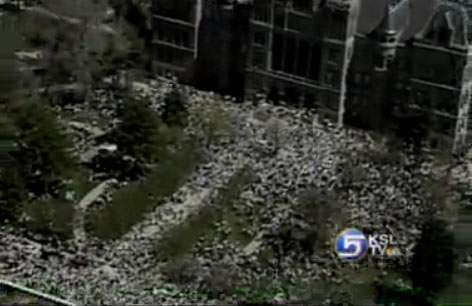 Most here say they oppose proposed measures to send illegal immigrants back out of the U. S. As for solutions, .most we spoke with support measures in Congress that would allow those who are here to stay and become legal.
Luis Lopez, Ogden Resident: "What is happening right now in the United States, with the immigration is just not right. We need to be legal, we need to have papers, we're an important workforce for the United States."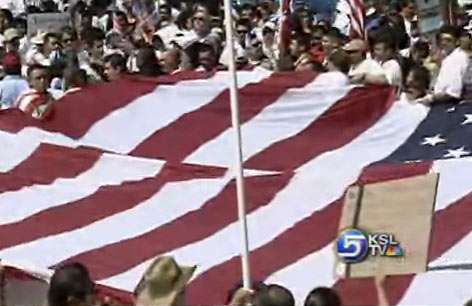 Jorge Rabeiro, Clinton Resident: "I believe they'll do something good for us, for everyone, I really believe."
Often heard today; Talk of the American dream being for everyone. A dream expressed in English and Spanish.
Peter Corroon, (D) Salt Lake County Mayor: "(In Spanish) The American dream should not be for a select few it should be for all of us."
This is likely Utah's largest rally ever. Larger than an anti-war protest back in the 60s, larger than a protest against the Iraq War back in August."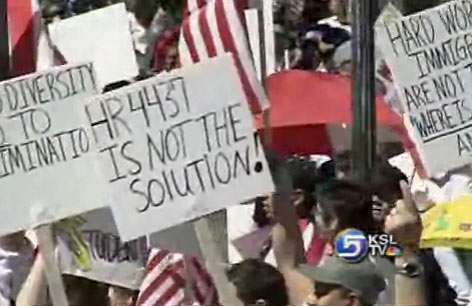 There's power in numbers, and many here say they're grateful so many people are taking a stand.
Ramona Lopez, Salt Lake City Resident: "I'm very proud that they are. I very happy that they are making a statement."
The political activism won't end here. There's a separate "Unity Rally" planned for Monday afternoon at 4:30 at the City and County Building. Tomorrow's event will coincide with demonstrations in 60 cities, including the nation's capitol, where they're predicting a crowd of 100-thousand.
One estimate puts the number of undocumented workers in Utah at 90,000. For them this isn't just political, it's personal, and that's why so many people showed up today.
Police say there were not really any security problems.
About 20 or so motor officers were helping with traffic control and a few other officers were keeping a close eye on the crowd to make sure no trouble developed.
Police say this is the largest public gathering in years, even more condensed than the Olympics.
Det. Robyn Snyder, Salt Lake City Police Dept.: "It's been very well organized they've got some volunteers that re keeping the crowds back and off the streets while we had traffic coming through. They've been really cooperative, easy to deal with"
Police plan to have extra officers on hand for tomorrow's rally as well.
×