Estimated read time: 2-3 minutes
This archived news story is available only for your personal, non-commercial use. Information in the story may be outdated or superseded by additional information. Reading or replaying the story in its archived form does not constitute a republication of the story.
Tonya Papanikolas ReportingMany stressed out people turn to massage to relieve their tension, and practitioners claim it can do a lot for your pets as well!
Mary Norton is a certified massage practitioner, but she doesn't work on humans, she massages pets.
Marty Norton, a certified pet massage practitioner, says, "All of the benefits that humans get out of massage, animals get out of massage."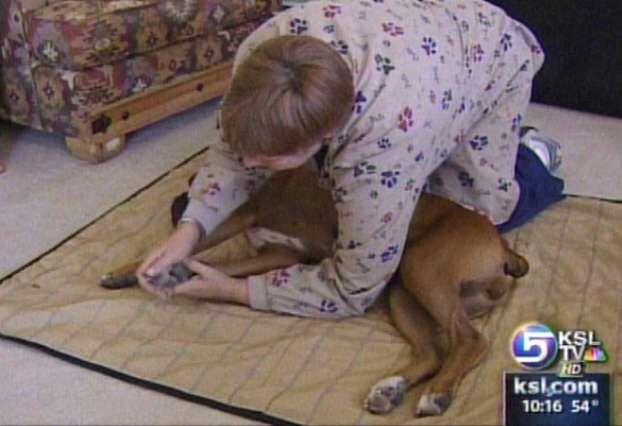 Two-year-old Bailey has a fused spine from former abuse. She's become Norton's regular client.
Dog owner Deena Bellazetin says, "She couldn't even do so much as to walk up the stairs or get up on the couch."
But now she can do both.
Bellazetin said, "About the third or fourth time, we saw a remarkable difference. You know, she was able to walk up the stairs by herself."
Six months later Bailey has also been able to go off her pain medicine.
"What I have done mostly for Bailey is basically strengthened her back muscles," Norton said.
Norton also works with the rest of the body. You can see how relaxed Bailey gets when her face is massaged. Norton works from the top of the dog's head to the tip of her paws. By her breathing, she seems to love it!
Norton also massages cats, but she admits, keeping them still is a challenge. That's not usually the case with dogs. Norton says arthritic pets are great massage candidates, but not the only ones.
"It's good for older dogs, it's good for younger dogs, it's good for dogs in good health, it's good for sick dogs," Norton said.
Veterinarian Dr. Rick Campbell said, "I can see the benefit from it, yes; but I can't see it as curing pain, erasing pain."
Dr. Campbell said massage isn't a miracle cure. He emphasized pet owners need to make sure their animals get proper medical care first, but as a veterinary supplement, he admits pet massage has benefits.
Norton charges anywhere from $20 to $40 for a half hour of pet massage, depending on the size of the animal.
×
Related links
Most recent Utah stories