This archived news story is available only for your personal, non-commercial use. Information in the story may be outdated or superseded by additional information. Reading or replaying the story in its archived form does not constitute a republication of the story.
SALT LAKE CITY -- Two Jazz starters led the team in scoring Monday night against the New Orleans Hornets. Al Jefferson and Devin Harris scored 22 and 19 respectively; however, it was the bench that added a spark and led the Utah Jazz to its 94-90 win over the Hornets.
The star off the bench was Josh Howard, who had 13 points and three rebounds and led the team with seven made free throws out of eight attempts.
"Josh really stepped up, hit some big shots" Jefferson said. "He's a big time leader on the defensive end."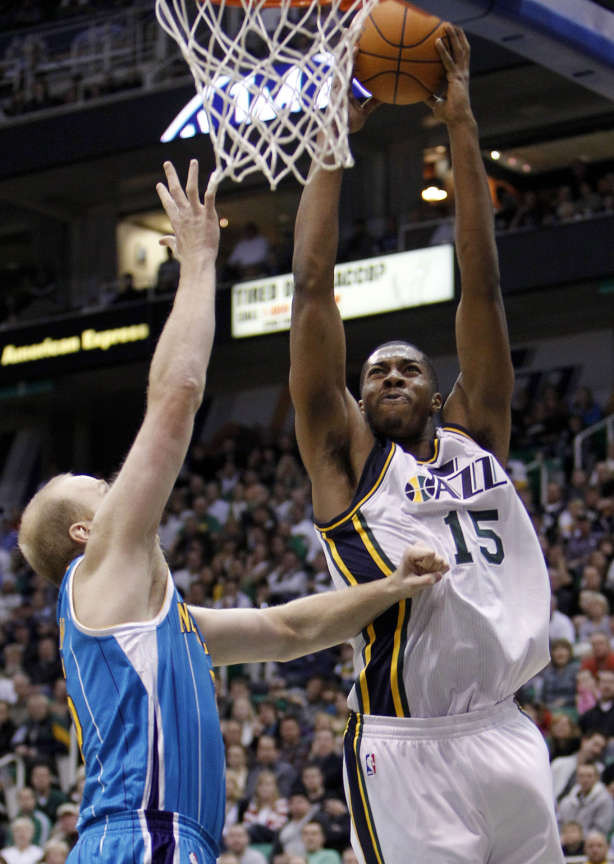 Howard played well enough to garner minutes to close the game out and had a mighty block on a New Orleans' fast break with 5:45 left in the game.
"At the end of the day you got to have defense to win games." Howard said. "The main focus right now is defense."
He made that decision by coach Tyrone Corbin look good when he took a charge with 16 seconds left in the game and the Jazz up only three.
"He just wants to play," Corbin said about Howard. "I love his energy, I love his game."
Derrick Favors and Enes Kanter joined Howard as big reasons the bench provided such a lift. Both added rebounding help against the Hornets who are a top rebounding team. Earl Watson took two charges in the first half and dished out a team-high seven assists.
C.J. Miles provided energy and defense along with 11 points and a big 3-pointer that gave the Jazz a brief lead with four minutes to play.
"Being aggressive leads to good things happening," Miles said off his mindset coming off the bench.
He was on the court at the end of the game thanks to his defense where he added two steals.
"C.J. played great defensive down the stretch," Jefferson said.
None of their overall stats will wow in a look back at the game, but the whole is greater than the sum of the parts.
"This is what we talked about all training camp, we want everybody ready to go," Corbin said. "...Everybody has to be ready to step up."
Big Al will get the headlines for his 22 points, but the bench kept this game close enough for the starters to come in and end the game on a high note. But the ensemble of Jazz players showed that any player is able to step up and become a leader for the team and add energy and emotion to the game.
Email: jmoore@ksl.com
×
Related Stories