Estimated read time: 6-7 minutes
This archived news story is available only for your personal, non-commercial use. Information in the story may be outdated or superseded by additional information. Reading or replaying the story in its archived form does not constitute a republication of the story.
ELKO, Nevada — A pair of sharp eyes from an Elko County commissioner brought a three-day manhunt for a couple accused of going on a two-state crime spree — including a home burglary, violent carjacking and possible double homicide — to an end.
On Tuesday, Logan Welles McFarland, 24, and Angela Marie Hill, 25, both of Sanpete County, were arrested without incident about 1:20 p.m. by the Elko County Sheriff's Office, West Wendover police and U.S. marshals. "The location of the arrest was an extremely rural area of Elko County near Wells, Nev.," police said.
McFarland was booked into the Elko County Jail Tuesday night for investigation of attempted murder with the use of a deadly weapon and kidnapping. He was being held on $75,000 cash bond.
Hill was taken to Northwestern Nevada Regional Hospital after her arrest for an undisclosed medical condition. She was expected to be booked into the Elko County Jail on the same charges as McFarland after she was released.
How McFarland and Hill were found
The couple was spotted about 12:30 p.m. by Elko County Commissioner Demar Dahl, who was flying his private plane spotting cattle.
Dahl said he and Randy Stowell were going to go flying to look for cattle around Stowell's ranch. But they decided first to look for the missing fugitives.
---
I think they just about had it. They were ready to give up. They acted like they kind of gave up.
–Demar Dahl, Elko County Commissioner
---
"We decided, 'well, we'll look for them before we go looking for cattle,'" he said.
After flying around the higher elevations the two dropped down to the lower mountains. After about 45 minutes of flying, Dahl said Stowell spotted two people walking.
"We turned around and got a closer look," he said. "It was definitely them."
Dahl contacted law enforcement and then followed the couple for about an hour and a half before law enforcers could arrive at the remote area. The couple knew the plane was tracking them, he said. But it appeared to Dahl that they were ready to surrender.
"I think they just about had it. They were ready to give up," he said. "They acted like they kind of gave up."
Dahl said he and his partner were just lucky on Tuesday and credits law enforcement with the real work. Right after officers arrived, Dahl had to land his plane along the side of the road because he ran out of fuel. After refuelling, he went back up and found the cattle they were originally after.
"It was a good day," he said.
The arrest
The couple was spotted in a remote area about five miles off of I-80 near Oasis, Nev. They were about two miles from the Big Springs Ranch. When officers approached, the couple were carrying unknown objects that officers ordered them to throw to the ground.
The objects were later determined to be firearms.
West Wendover Police Sgt. David Wiskerchen said McFarland was wearing only a pair of sweatpants rolled up to his knees and no shirt. Footage shows McFarland with his shirt on earlier, however. Hill was wearing a shirt and a pair of sweatpants, Wiskerchen said.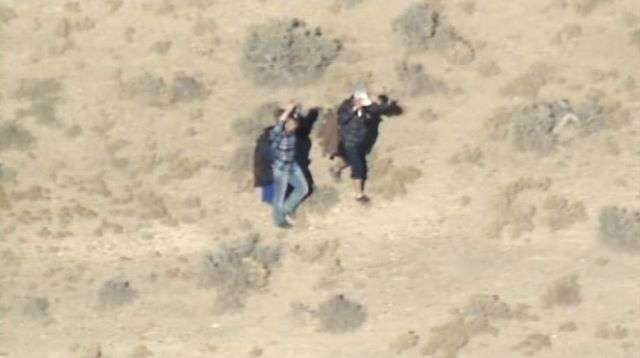 Officials did not know Tuesday where the couple was headed or what their plans were. "They were walking away from the car," Wiskerchen said of the Jetta the couple was last seen driving. The Jetta was still in the process of being recovered Tuesday evening. Wiskerchen did not know if the car was still operable.
He believed the couple were "taken a little bit by surprise" when they were arrested. Police say they were relieved the couple was taken into custody without further violence.
"They went very peacefully. … We're very relieved they were apprehended," Wiskerchen said. "Two very dangerous individuals are off the streets."
U.S. marshals say prior to the couple being arrested, law enforcers had been planning on a massive search effort Wednesday.
Charges McFarland and Hill face
An arrest warrant for second-degree felony burglary was issued Sunday for McFarland in Sanpete County's 6th District Court. The affidavit says McFarland and Hill burglarized a home in Mt. Pleasant before carjacking a woman in West Wendover and shooting her in the head as she tried to get away from them.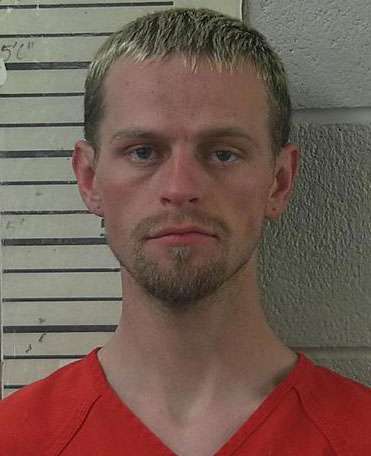 The arrest warrant does not directly connect McFarland or Hill to the shooting deaths of Leroy Woody Fullwood, 70, and his wife, Dorothy Ann Fullwood, 69. However, in other papers filed in 6th District Court, investigators say, "The state of Utah considers Logan Welles McFarland a person of interest in the deaths of the two ... Mt. Pleasant residents."
Mt. Pleasant Police Chief Jim Wilberg said investigators believe Hill dropped McFarland off at the Fullwood home to commit a burglary.
"I don't think he went there to commit the homicide," Wilberg said.
But McFarland also reportedly believed the world was going to end soon, the chief said.
"He kind of bought into the whole 'the world was going to end in 2012' thing and didn't really care what was going to happen after that day," he said. "He thought things weren't going to exist after the new year."
Both McFarland and Hill have a history of drug use and could have been going through withdrawals, which makes them even more dangerous, Wilberg said. At least two handguns and rifles were taken from the burglary.
Items found in a car that McFarland and Hill allegedly stole, including jewelry, were directly linked to the Fullwoods. The affidavit also revealed that a Del Taco receipt, found in another vehicle the couple was allegedly driving, showed a purchase was made using the Fullwoods' credit card.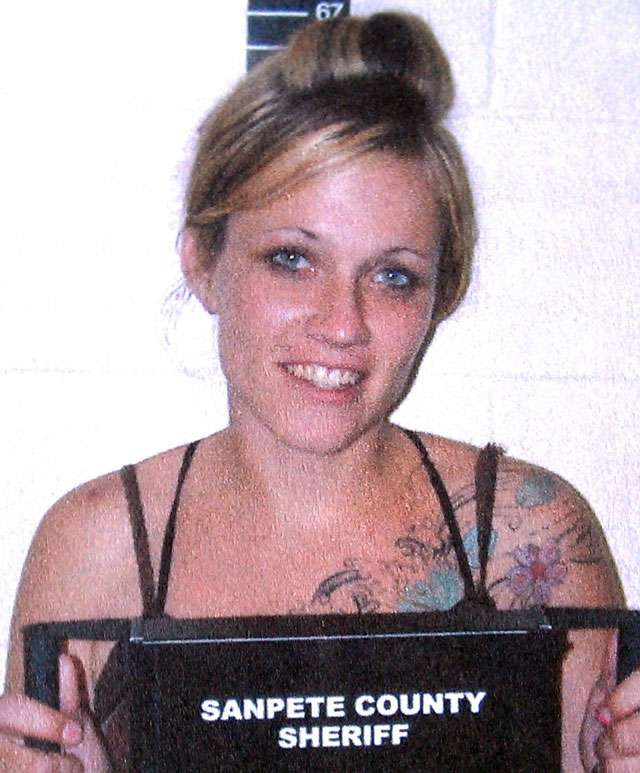 Hill is also known as Angela Marie Atwood. According to the arrest warrant for McFarland, in which Hill is referred to as Atwood, the couple borrowed a 1997 Plymouth Breeze from an acquaintance on Dec. 29 so he could "go to Mt. Pleasant to a 'friend's house,'" the arrest warrant states.
The couple returned the car at midnight on Dec. 30. McFarland "bragged to him about acquiring firearms and money," according to the affidavit.
But when the acquaintance got out of bed about 6 a.m., the car was gone again. McFarland later called to say the car could be found abandoned in Santaquin just off I-15.
Another vehicle, a Saturn Ion, was stolen near the area where the first car was abandoned. The Saturn was later found abandoned in Wells, Nev. The couple allegedly then stole a Volkswagen Jetta.
About 7 a.m. Saturday, outside the Red Garter Casino in Wendover, Nev., Hill allegedly forced a middle-age woman into the passenger seat of her car and took control of her vehicle. About a quarter-mile from the casino, the victim tried to fight off her carjacker by "biting her ear, neck and forcing her from the vehicle," the affidavit states. Hill fired a shot at the woman as she drove away, according to the arrest warrant.
The woman was struck in the back of the head, but she was able to drive herself to the police station. At last word, she was in critical condition at University Hospital in Salt Lake City.
Wiskerchen released a statement from the family of the woman shot during the carjacking. The family asked for privacy for the woman, whose name has not been released publicly, saying she will make a statement when she is ready.
----
Written by Pat Reavy with contributions from Sandra Yi and Sam Penrod.
×
Photos
Related stories
Most recent Utah stories