Estimated read time: 4-5 minutes
This archived news story is available only for your personal, non-commercial use. Information in the story may be outdated or superseded by additional information. Reading or replaying the story in its archived form does not constitute a republication of the story.
(AP Photo/Douglas C. Pizac, Pool)John Hollenhorst Reporting
This could very well mark a turning point in the history of polygamy in Utah, even though Warreb Jeffs wasn't actually charged with polygamy.
The double-barreled verdict puts the subculture on notice that arranged marriages with unwilling underage brides can provoke severe legal consequences.
After three days of deliberation a jury convicted the polygamous-sect leader of rape-by-accomplice.
Warren Jeffs could now get life in prison for pressuring a 14-year-old girl and her 19-year-old cousin into a religious and sexual union more than six years ago.
A switch of jurors Tuesday morning doesn't seem to have affected the outcome. The original jury of eight had already decided to convict Jeffs Monday on count one. The jurors holing out for acquittal on count two changed their votes Tuesday, giving the prosecution a double victory, Jeffs guilty on two counts of rape as an accomplice.
He was flown by helicopter about an hour after the verdict to the Purgatory Jail, which is about 12 miles away. He's expected to be sentenced in a few weeks and faces five years to life in prison on each count.
All along his defense attorneys predicted he couldn't get a fair trial, and that it was a religious persecution. But a private investigator who helped generate the legal action disputed that claim. "Warren Jeffs' attorneys fought everything every step of the way and nobody can say Warren Jeffs didn't get a fair trial. He got more than a fair trial," private investigator Sam Brower said.
This verdict was definitely a vindication for Elissa Wall, the victim in the case, who was 14 years old at the time the crime took place.
Tuesday, the 21-year-old Wall stepped forward to the microphones to talk about the verdict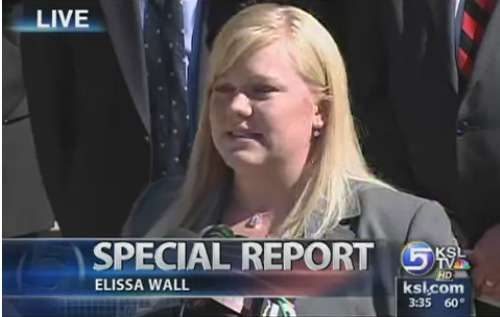 "This has not been easy for us. The easy thing would have been to do nothing, but I have followed by heart and spoken the truth," she said.
A lot of people believed that the crucial turning point in the trial was the closing argument last Friday by prosecutor Brock Belnap. He also spoke Tuesday just before Wall did. "In my mind, Elissa is a pioneer. There always has to be someone willing to go first. She stood and took the stand and withstood attacks on her creditability and reputation with honor and with dignity," he said.
Wall also went out of her way Tuesday to tell her own mother that she loves her, realizing that many of her relatives are still members of the Warren Jeffs group and loyal to Jeffs, and troubled by her role in this case.
"I have very tender feeling for the FLDS people, there is so much good in them. I pray they'll find the strength to step back and re-examine what they've been told to believe and follow their hearts," she added.
Wall also used the verdict to send a message to those who might be sexually abused because of the marriage practices of the FLDS church. "I know how hard it is, but please stand up and fight. Fight for your voice and power of choice. I will continue to fight for you," she said. "This trial has not been about religion or a vendetta. It is simply about child abuse and preventing further abuse."
It's that idea of underage child brides that has been a big issue for a lot of people, and there was celebration in some quarters after this verdict. "I'm so elated because I was so proud of those girls [and] the courage it took for them to send a message to Colorado City. It sounds like the jury got that message," Elaine Tyler of The Hope Organization said.
Richard Holm, a former follower of Jeffs, said, "There are so many victims, so many people that he's hurt, that I'm extremely glad to see the system work. It was brought into the hands of the law and he had to face his accusers, some of them. He was given a fair trial and I'm happy to hear the verdict."
"You can't have a religion that says can you violate the law," explained investigator Gary Engels, from Mohave County, Ariz.
Now that the trial is over, Jeffs is facing 5 years to life in prison on each of the two counts. Those could be run consecutive consecutively, which means he'd have to serve one sentence and then start another sentence.
Sentencing in this case is scheduled for Nov. 20 at 1:30 p.m., but once sentencing is done on that he could face more legal trouble because he's facing eight or 10 charges in Arizona.
What this all means for the future of the FLDS community is unclear. All indications are that new leadership is emerging to fill the gap, but thousands of people remain loyal to Jeffs' teachings and the teachings of the church.
×
Related links
Most recent Utah stories