Estimated read time: 2-3 minutes
This archived news story is available only for your personal, non-commercial use. Information in the story may be outdated or superseded by additional information. Reading or replaying the story in its archived form does not constitute a republication of the story.
(KSL News) Hundreds of motorcycle riders hit the streets Sunday to raise money for a memorial honoring Utah's fallen officers.
The ride started at Thanksgiving Point and ended at the state Capitol.
Many of the riders were law enforcement officers. They asked family and friends to sponsor them so they could contribute to a very meaningful memorial.
Eight-hundred motorcyclists revved their engines and rode to the state Capitol to honor a group that may not get enough recognition.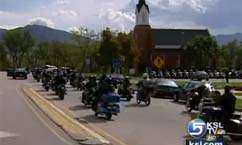 Governor Jon Huntsman said, "We're here to reflect upon the lives that have been lost that have given the ultimate sacrifice."
One-hundred-twenty flags represented the honorees, Utah officers who have died in the line of duty.
Lynette Gurr, the widow of a fallen officer, said, "Theirs is a job that very few can do."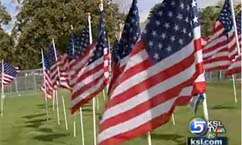 Gurr's husband, Roosevelt Police Chief Cecil Gurr, died in 2001 while responding to a domestic dispute. Gurr said the support today warmed her heart.
"There are so many that care about those that have given their life," she said.
Adam Faraone is the son of a fallen officer. "It means a lot to our family in the fact that the sacrifice that my father has made doesn't go forgotten," he said.
The event wasn't just a memorial ceremony. Organizers turned it into a benefit with riders seeking donations to help cover the cost of a Utah law enforcement memorial.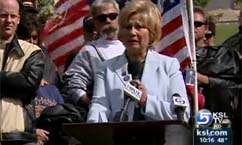 "Families, friends and officers need a place to let deep emotions run free," Gurr said.
Faraone said, "This memorial will be a place of comfort, a place of solace, a place of remembrance."
It will be an important place, especially for young children left behind.
"Here I can bring my grandchildren that have not had the honor of knowing him," Lynette Gurr said.
"Introduce my daughter," Adam Faraone said, "who won't ever have the opportunity to meet her grandfather."
For family members and the riders who participated today, reflecting on those who've given their lives for the safety of Utah citizens is worth remembering more than one day a year.
The memorial will cost $1.3 million to build. Officials said before this ride, they had raised about half of the cost. We'll find out tomorrow how much they raised from this ride.
×
Related links
Most recent Utah stories