Estimated read time: 2-3 minutes
This archived news story is available only for your personal, non-commercial use. Information in the story may be outdated or superseded by additional information. Reading or replaying the story in its archived form does not constitute a republication of the story.
Whit Johnson ReportingAbout 170 Utah airmen are back home with friends and family tonight following a four-month deployment in Iraq.
The 729th Air Control Squadron, known as the "Angry Warriors," arrived at Hill Air Force Base Sunday morning to hundreds of loved ones.
There were cheers, tears and smiles, along with colors of red, white, and blue, in anticipation of the airmens' return. The Angry Warriors are back from Iraq, where they conducted combat operations at Balad Air Base.
Staff Sgt. Les Davenport says now he's, "Tired, worn out and ready to go home."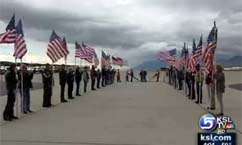 "You look out the window and you see the flags," one airman told us. "It was a really good reminder you're back in the States. You're over there in Iraq, you don't see the flag flying a lot, so it was good to see the American flag."
Providing ground-based air control to coalition aircraft and conducting flight operations were just some of their many duties. But the airmen were also a part of history. They helped facilitate the referendum for the Iraqi constitution and the country's first free elections.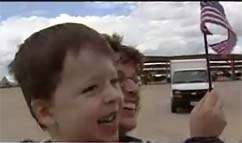 Steve Burn, of the Utah Patriot Guard, said, "We're here to show appreciation for everything that they do for us."
But for these airmen, it's all in a day's work.
Holly Davenport's husband is one of them. "I'm very excited. [My] adrenaline is going crazy right now," she told us.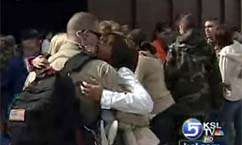 Their mission now? "Sit down and watch the rest of the Red Sox play ball, spend time with my family," an airman said.
Another airman's wife, Janae Burger, said, "[It's] kind of like a roller coaster ride, where your stomach falls. That's what it was like."
The 729th Air Control Squadron had been in Iraq since May. It's likely it will be deployed again next spring.
×
Most recent Utah stories