Estimated read time: 2-3 minutes
This archived news story is available only for your personal, non-commercial use. Information in the story may be outdated or superseded by additional information. Reading or replaying the story in its archived form does not constitute a republication of the story.
SOUTH OGDEN -- Whether they're gifts for ourselves or loved ones, many of us get plenty of expensive packages this time of year.
Some would-be thieves in South Ogden thought that doorstep packages would make for an easy target, but had no idea a neighbor was quietly watching. The man's quick thinking helped police catch them red-handed.
The suspects are here at the Weber County Jail tonight thanks to that observant neighbor. He was sitting at home when he noticed two people running from another house, holding packages. Police say if it wasn't for what he did next, they probably would have gotten away with it.
A young woman and man, both in their twenties thought they were making an easy score.
"It's a shame, you know," said the neighbor, who did not want to be named. "People order their Christmas presents, do their shopping online, you think you're all set up for the holidays."
The neighbor says he was doing some work from his home office when he saw what he described as "a couple of kids" get out of a car and come down the road. He said he didn't think much of it at first.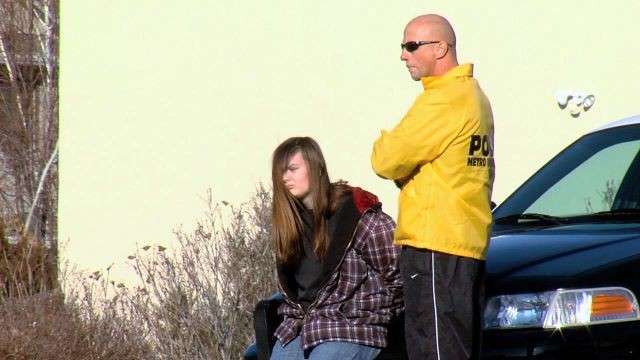 "(Then) all of a sudden, I saw these two kids - looked like teenagers - go running across my yard, carrying a bunch of boxes."
He tried to chase them through the neighborhood himself, near Ben Lomond Avenue and Glassman Way, but they took off by car. That's when he called police.
"I'm really impressed with how fast the police department responded and caught up with them," he said.
"Really, we wouldn't even have known," said Marci Edwards, South Ogden Police Department spokesperson. "The victim wasn't home at the time. Those calls are hard to solve when we don't have suspect information, and it may very well have gone unsolved."
The neighbor said he is glad he caught them and that those packages won't have to become missing Christmas gifts.
Police are still looking for 22-year-old Jordan Nilson of Washington Terrace. He's the one who fled on foot. Anyone with information on his whereabouts should call South Ogden police.
Cameron Agee of South Ogden, and Jessica Stimpson of Riverdale, both 21, were booked on theft charges. Agee already had an outstanding federal warrant out for his arrest.
Email: manderson@ksl.com
×
Photos
Related Stories