Estimated read time: 2-3 minutes
This archived news story is available only for your personal, non-commercial use. Information in the story may be outdated or superseded by additional information. Reading or replaying the story in its archived form does not constitute a republication of the story.
Alex Cabrero Reporting When a pump in a well failed, it left a Utah County community without water. Tonight some have water, but a few don't in Woodland Hills. Crews are still trying to fix a broken shaft in the city's water pumping system.
For residents who live below the water tanks, gravity is bringing them some water, enough to flush the toilets with; but if you live above the water tanks, you don't have a drop, and it could be like this for a couple of more days.
Joni Young has always kept a 72-hour kit, just in case. Now she's putting together a one-week kit, just in case. "I hope it won't be a week, but yeah, I'll drink a lot of water by then," she said.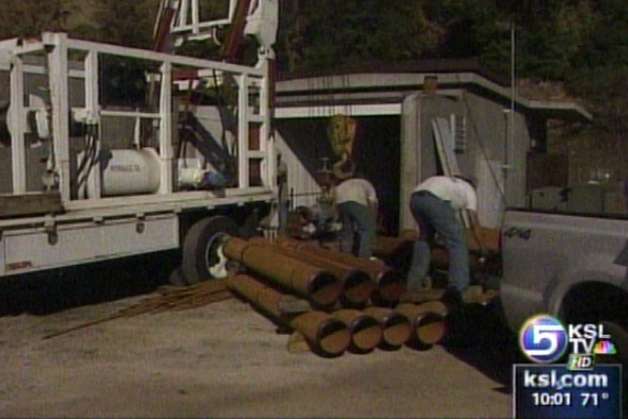 She's one of hundreds of residents in Woodland Hills having to severely cut back on their water usage, otherwise there might not be a drop left for other people.
"We just drink bottled water, and we try to conserve by not using our dishwasher and laundry," she said.
It's all because of a broken piece of metal 300 feet below the ground.
Woodland Hills councilman Charles Spence says, "The well guy started tinkering with it and doing some adjustments, and said, 'You got a busted shaft.'"
Drilling crews are working to get to the problem so it can be fixed, but it could take another day, maybe two, just to get to the problem. What's even more troubling is that this well is Woodland Hills' only source of water.
Spence said, "It brings up the importance of having a second source of water."
For now, that second source is a number of fire truck tankers. Departments from across Utah County are helping by pumping water from their trucks into the city's water tank.
Woodland Hills fire chief Dorel Kynaston said, "We're trying to give people in the city enough water to use the bathroom and basics."
It's enough to get by, for now.
"It's not really a big deal, but if it goes a long time, it probably could be," Young said.
The city is working to get a temporary pump into the well, but that could take a couple of days. To fix the problem overall it could be a week, maybe more.
Woodland Hills is also having some portable showers set up in nearby Salem for residents who are completely out of water.
×
Most recent Utah stories