Estimated read time: 5-6 minutes
This archived news story is available only for your personal, non-commercial use. Information in the story may be outdated or superseded by additional information. Reading or replaying the story in its archived form does not constitute a republication of the story.
SALT LAKE CITY — Any seed of doubt about Santa Claus was likely planted in my oldest child back when she was 6 years old. On Christmas Eve, just as my husband and I were placing the last few gifts out on display, I turned to see Megan standing watching us. Of course I used all sorts of excuses and explanations. "Santa was in such a big hurry, he left a pile of toys and asked us to set them out nicely for him." It seemed to work in the moment, and very little was ever said about that night for a long, long time.
In fifth grade, Megan announced that kids at school were saying there was no such thing as Santa. Instantly I wondered what in the world was I going to say. Should I spill out the truth right then and there? Should I lead her on? Before I had a chance to say anything, Megan said assuredly, "I don't know why kids don't just believe. I told them, 'I think Santa's magic is all around us,' " she continued.
Oh the astuteness of a then pre-teen! I guess my annual December reading aloud of the old newspaper editorial from 1897, "Yes, Virginia There is A Santa Claus" had really sunk in:
---
Nobody sees Santa Claus, but that is no sign that there is no Santa Claus. The most real things in the world are those that neither children nor men can see.
–Francis Pharcellus, journalist
---
"Not believe in Santa Claus! You might as well not believe in fairies! You might get your papa to hire men to watch in all the chimneys on Christmas Eve to catch Santa Claus, but even if they did not see Santa Claus coming down, what would that prove? Nobody sees Santa Claus, but that is no sign that there is no Santa Claus. The most real things in the world are those that neither children nor men can see. Did you ever see fairies dancing on the lawn? Of course not, but that's no proof that they are not there. Nobody can conceive or imagine all the wonders there are unseen and in the world."
Nothing more was said. Megan didn't bring it up again, and I certainly wasn't about to.
Fast-forward to the beginning of the Christmas season last year. Caught in a sudden bind between a fabulous bargain for a pair of pajamas my son would love and having my 12-year-old at my side, I pulled her aside the crowded aisle. With my hands on her shoulder and a surprising catch of emotion in my throat, I looked directly in her eyes and asked, "Do you care if I buy these with you here?" No further words were exchanged between us, but the eye language spoke volumes as I picked up the sale-priced pajamas and set them in my cart.
A year has passed since that surprise admission in front of a sale rack. My daughter feels a maturity and an excitement about this new phase of her Christmases. Yet one thing still remains, her insistence that "Santa's magic is all around us." As a parent, there is certainly a bittersweet feeling having my daughter give me suggestions about what should or shouldn't go in a stocking for her sibling, but there is also an overwhelming relief that one less child may accidentally "catch us in action" on Christmas Eve!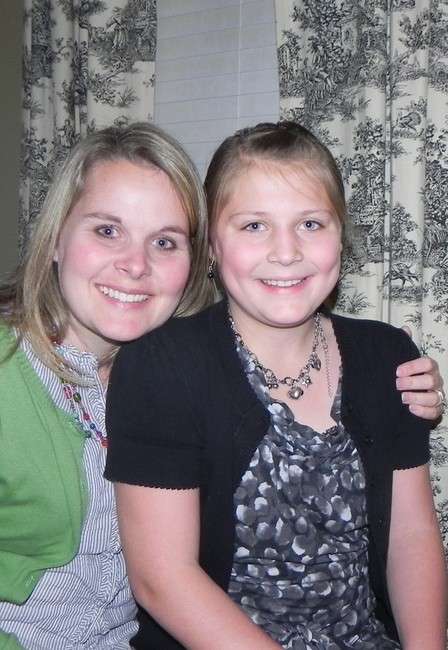 I still have four children that believe. I don't know if the transition from Santa to no-Santa will go as gradually and smoothly with the others as it did with Megan. But using the same loving and honest approach as with Megan, I see no reason why it can't be a natural transition from a Santa believer to a Santa helper.
In an attempt to prevent my children being the one to burst another child's bubble, my other children will be given the same strict orders as Megan was. We do not discuss the reality of Santa with anyone else. Just like the "birds and bees" discussion, the "Santa talk" is right up there with it as a conversation that isn't necessary between children. Children don't need to blab to other children.
Whether a believer or a nonbeliever in Santa Claus, I can't help but agree with Megan, "Santa's magic is all around us." Look at a community elf tree, see the bell ringers outside a crowded store, witness a financially strapped family handed a wad of cash by a generous giver, watch a shopping cart being filled with toys for another family's children, notice a car speed off after doorbell ditching a Christmas surprise, observe a child carefully placing an empty stocking on the end of their bed, or glimpse into a child's eyes on Christmas morning.
Referring again to the century-old editorial,
"No Santa Claus! Thank God he lives, and he lives forever! A thousand years from now, Virginia, nay, ten times ten thousand years from now, he will continue to make glad the heart of childhood."
Whether or not a man in a red suit really comes down a chimney or a present-filled sleigh flies across the sky led by a red-nose reindeer on Christmas Eve, there is a Christmas magic that can't be denied. That is what our children should be experiencing.
Santa Claus or not.
---
Tiffany Sowby and her husband, Mike, are the parents of five children. Tiffany's passion for motherhood and writing come together at www.ourmostofthetimehappyfamily.blogspot.com
×
Related links
Related stories
Most recent Home & Family stories