This archived news story is available only for your personal, non-commercial use. Information in the story may be outdated or superseded by additional information. Reading or replaying the story in its archived form does not constitute a republication of the story.
SALT LAKE CITY — Mayor Ralph Becker now has $18 million reasons to believe his bid to build a new performing arts center downtown will be successful.
The Salt Lake City Council voted 5-2 Tuesday night to issue up to $18 million in bonds to design the Utah Performing Arts Center, a planned 2,500-seat theater capable of hosting first-run touring Broadway shows.
City officials say it will cost $15 million to design the theater. In all, the theater's price tag is estimated at $110 million, though that figure hinges on moving forward now to take advantage of historically low interest rates and a favorable construction climate.
The council's action Tuesday allows the city to issue up to $18 million in short-term bonds, meaning the debt would be paid off in about a year — likely with a construction bond for the project.
Investing $15 million to $18 million in the project essentially commits the city to building the theater. If city officials were to decide not move forward with the project in the future, it still would be on the hook for that $15 million to $18 million.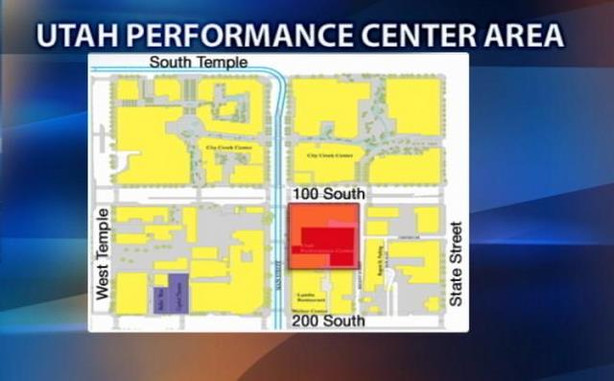 "I'm nervous," Councilman Carlton Christensen said. "Eighteen million dollars is a lot of money. On the other hand, I'm optimistic. … The long-term benefits for us as a community are significant."
The theater, Chairwoman Jill Remington Love said, is 20-plus years in the making.
"The opportunity is here now," Love said. "The property exists. Interest rates are low. Construction rates are low. It's the right time to move forward with this theater."
Councilman Soren Simonsen, who along with Luke Garrott voted against issuing the bonds, expressed concern about moving forward with the project without knowing if or how much Salt Lake County will be involved.
City officials are hoping the county will operate the theater and contribute about 20 percent of the cost.
Ben McAdams, the mayor's senior adviser for intergovernmental affairs, said county leaders have indicated they support the project and want to participate. A vote of the County Council is expected early next year.
McAdams also said a backup financing plan is in place in the event the county opts not to participate.
Garrott proposed delaying a decision on the theater until next year, when the county's level of participation was more clear. That idea found no support on the council, however.
Garrott also took issue with what he said was a lack of detail provided by the mayor's office as to how the $18 million would be spent.
---
Eighteen million dollars is a lot of money. On the other hand, I'm optimistic. The long-term benefits for us as a community are significant.
–- Councilman Carlton Christensen
---
"We're signing a blank check to the administration," he said.
Simonsen also echoed the ongoing concerns of some local arts groups — including Kingsbury Hall and Pioneer Theatre Co. — that the new theater would cause them financial harm. He said he doesn't believe enough time has been spent figuring out how the new theater would affect existing arts facilities.
"We promised that this will benefit the community," Simonsen said. "It's our responsibility to demonstrate how that will happen. I don't think we've demonstrated that yet."
McAdams said a meeting has been scheduled with Kingsbury Hall and Pioneer Theatre Co. to discuss how all parties can work together to overcome possible challenges.
Officials from theaters in three U.S. cities brought in as consultants in September said the Utah Performing Arts Center would complement Salt Lake City's arts district and not compete with other downtown venues.
In May, a study commissioned by the Redevelopment Agency of Salt Lake City concluded that the theater would attract 123,000 new visitors to Salt Lake City each year and serve as an economic catalyst on Main Street.
The study was conducted by Garfield Traub Swisher, the Illinois-based company selected by the RDA in October 2009 to develop the theater.
The developers said the Utah Performing Arts Center would meet the pent-up demand for first-run touring Broadway productions in Utah. Currently, space and scheduling limitations prevent Salt Lake City from attracting such shows until their seventh, eighth or ninth runs.
In 2008, Becker announced plans to build the Utah Performing Arts Center at approximately 135 S. Main, just south of the City Creek development.
Since that time, city officials have been working with Property Reserve Inc. and Suburban Land Reserve — both of which are development arms of The Church of Jesus Christ of Latter-day Saints — to negotiate the purchase of the former Newspaper Agency Corp. property between Main and State streets and 100 South and 200 South.
The two sides have yet to agree on terms of a sale.
Email:jpage@ksl.com
×
Related Stories