Estimated read time: 5-6 minutes
This archived news story is available only for your personal, non-commercial use. Information in the story may be outdated or superseded by additional information. Reading or replaying the story in its archived form does not constitute a republication of the story.
SALT LAKE CITY — After six routine knee surgeries to keep him going through the years, Dale Belliston never dreamed of being able to afford a total knee replacement, nor was it ever a thought.
His daughter fell into a campfire as a child and Belliston and his wife, Nancy, will be paying back those medical expenses "probably until the day we die," she said. Not to mention, they are self-employed and pay a hefty monthly premium that earns them a less-than-desirable $13,000 annual deductible.
"We're not rich, we're not poor, we're just self-employed," Nancy Belliston said.
The Far West couple's prayers were answered weeks ago, when Dale, 59, was selected as one of nine patients from a couple dozen eligible applicants to receive a free knee or hip replacement. The $25,000-plus surgeries were each donated by the doctors and staff at Salt Lake Regional Medical Center's Center for Precision Joint Replacement. The hospital will also be providing room and board for each patient.
The nine procedures were done Friday as part of Operation Walk USA 2011, in which about 90 patients at 23 different hospitals in 15 states went under the knife for the potentially life-changing procedure.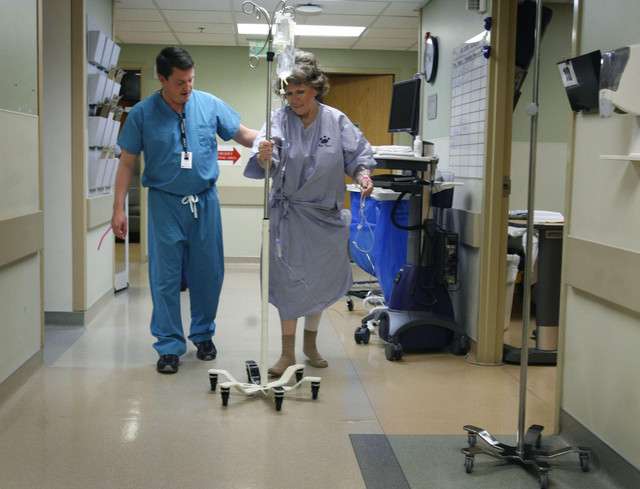 "Painful and non-functional knees and hips are a tremendous hindrance to quality of life, and the people we help through Operation Walk have often lived with their disability for decades," said Dr. Aaron Hofmann, center director and orthopedic surgeon. "The new-found freedom and mobility provided by a new knee or hip can literally change someone's outlook on life."
And Mark Smith, 44, knows it will change his.
As an accompanist for British-born LDS singer Alex Boyé, Smith has to travel a lot and the quickly degrading condition of his hips has severely limited him lately. For several years, he's relied on potent medications to help him endure the pain just walking around entails, as arthritis has nearly completely worn away his two hip joints.
"Most people don't really know what it is like to be in my situation," he said, adding that he's gotten used to it since being diagnosed in 2002. Smith has petitioned several organizations over the years to help him pay for medical care, but it has always been out of reach for him.
Similarly for 63-year-old Sandra Jensen, of Tooele, who, up until a few years ago, was moving a mile a minute.
The former bartender/taxi cab driver's hips are so bad that she can't take the stairs anymore and generally has to "plop" into the car — only when she absolutely has to go somewhere. She and her husband make $200 a month too much for her to qualify for state or federal aid and health insurance is just a pipe dream.
"I was just hoping I wouldn't end up in a wheelchair before Medicare kicks in," she said. She's happy her kids gave her a walker as a birthday present, even if it was embarrassing for them.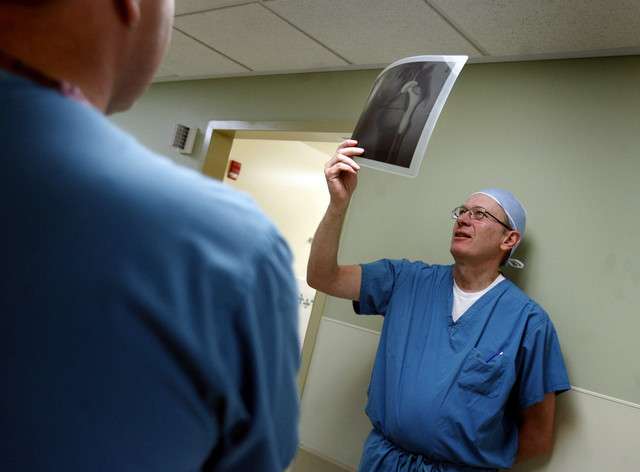 "But I don't let anything get in my way and nothing can get me down," Jensen said. And Hofmann said she'll notice a change in her condition almost immediately following the surgery, which is good because she winced with pain when doctors moved her from the gurney to the operating table.
Before Friday's procedure it would take her two full days to clean her small home, and she uses the hook of her cane to pull on her pants every day. She said the doctors at Salt Lake Regional were actually surprised she can still walk, let alone stand on her own.
And like others, who were selected for Friday's four knee and five hip replacement surgeries, Jensen was chosen not only because of her inability to pay, but for the severity of her disease.
"There are so many individuals out there who have lost their job or don't have insurance. The need is way beyond what we can provide," said Hofmann.
Hofmann and others throughout the state and country participate each year in providing similar surgeries to people in struggling countries of South America. After finishing 44 knee replacements in El Salvador in May, Hofmann said he knows there are just as many deserving patients in his own hometown.
Friday's nine available surgery slots were filled just 48 hours after Hofmann announced the opportunity two months ago.
Millions of Americans suffer from painful joint problems and may end up one day needing a joint replacement. Each year, more than 900,000 hip and knee replacements are performed in the United States, but the figure doesn't include the many who go without the surgery because they don't have the financial capacity to afford it.
Friday's surgical spree is the first of what Hofmann and other doctors at Salt Lake Regional's joint center hope will become a semi-annual, if not quarterly event. Adequate funding is the only thing holding them back, as nine surgeries, including recuperation and physical therapy efforts, is a "big commitment," Hofmann said.
All aspects of treatment, including surgery, hospitalization and pre- and postoperative care, are provided at no cost to the patients. Operation Walk USA 2011 is a collaborative effort between three orthopedic organizations and 23 participating hospitals, including Salt Lake Regional Medical Center.
Device manufacturers, including Salt Lake City-based Total Joint Orthopedics, donated the hip and knee implants for the patients and Nike is providing them a new pair of shoes.
"Helping someone go from helplessness to where they can walk provides a total life reformation," said Dr. Jeremy McCandless, an orthopedic surgeon who also participated in Friday's charitable endeavor. "It's nice to give back. It's not these people's choice to have no insurance and no ability to help themselves."
Email:wleonard@ksl.com
×
Photos
Related links
Related stories
Most recent Utah stories