Estimated read time: 6-7 minutes
This archived news story is available only for your personal, non-commercial use. Information in the story may be outdated or superseded by additional information. Reading or replaying the story in its archived form does not constitute a republication of the story.
OGDEN — Across Davis and Weber counties - people are busy cleaning up after Thursday's massive wind storm, and utility crews are working overtime to get power back on.
Power problems
Thousands of Rocky Mountain Power customers in Weber County's anchor city remain the hardest, while pockets of customers in Davis County also are without power.
By Friday night, 3,000 Rocky Mountain customers are still in need of power, and Bountiful — which has it owns power utility — has 2,500 to 3,000 customers in the dark. Yet a recording updated late Friday said there were still "many power outages throughout" Bountiful and warned that it could still be several days before full restoration.
Kaysville, on its own power as well, called in help from Lehi, Brigham and Heber cities to augment crews working around the clock.
"I was out late last night and I tell you I have never seen such a skilled, positive group of guys to be scaled up on a power pole at 10:00 in the freezing weather," Kaysville Mayor Steve Hiatt said. "They were here to help a sister city in need."
Hiatt said the crews worked through Thursday night to restore power, which could still be unavailable to some central city residents by as late as Sunday. The central area of the city — Old Town — sustained the most damage, he added.
Related:
While many schools limped through the storm Thursday without power, others shut down — like all those in Centerville. The Davis School District cancelled all classes on Friday. Multiple buildings were damaged, and many school buses had windows blown out.
In Bountiful, a Friday evening light parade was called off because of cleanup, and traffic signals remain damaged or dark at major thoroughfares in Ogden.
Rocky Mountain Power spokeswoman Maria O'Mara stressed that customers who remain without power may be experiencing the trouble not because of a downed line but because of storm-damaged meters. If customers see any damage to their meter, and the power is out, an electrician should be called.
Aftermath of the storm
The storm was followed by below-freezing temperatures, forcing dozens of people to temporary shelters set up at multiple locations by the American Red Cross or by cities. Some of those shelters were precautionary as cities reached out in the emergency.
Layton City Assistant Manager Jim Mason said a shelter was set up at Legacy Junior High School for residents, particularly those hardest hit east of Fairfield, in case they needed help. "But no one showed up."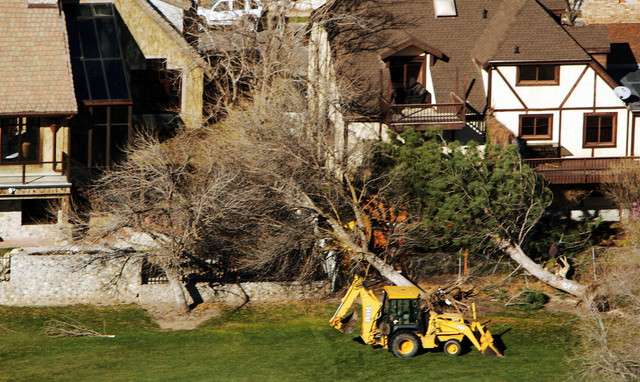 Calls for help in removing debris, however, are piling in from everywhere, Mason said, and are not likely to diminish anytime soon as hundreds upon hundreds of trees need to find their way to the landfill.
Among those trying to pick of the pieces of their lives and property were residents of Centerville.
"There have been a lot of trees here in Centerville that have been here as long as many of the houses … that have come down and it's kind of sad to see some of that history come down," said homeowner Bryan Bartholomew.
Wasatch Integrated, which runs the Davis County landfill on state Route 193 in Layton, is taking clean green waste through Dec. 17 from any resident who belongs to a member city in the district at no cost. That would exclude Bountiful, which has its own landfill that is also taking the waste for free.
Director Nathan Rich said the lines were already stacking up deep on Friday by residents hauling away tree branches and limbs.
"It's going to be an incredible amount of waste," he said, adding that it will all be recycled over time. "It's going to be crazy, absolutely crazy. I would just ask people to be patient. We will get to you. We'll get it taken care of."
The facility suffered its own share of problems in the torrential wind storm on Thursday, shutting down for the first time in Rich's 12-year tenure there. He estimates wind caused as much as $400,000 in damage.
Green waste disposal sites
Davis County Landfill
600 Park Blvd, Ogden
Island View Park, Centerville
Community Park, Centerville
Smoot Park, Centerville
North, South and Central LDS Stake Centers, Centerville

"We don't have any signs left," he said, adding that a 5-acre section of landfill cover went airborne.
"It got sucked up and took off like an airplane."
The cities that are collecting green debris at selected repositories such as Centerville can take their waste to the landfill for free as part of an ongoing arrangement, he said. In Kaysville, the city is ramping up its refuse collection efforts at curbside, where the mayor said crews will haul away green debris.
All residents should take caution to not block city streets or sidewalks as they pile up the remnants of downed trees and other foliage.
Centerville has posted staging locations for debris on its website, www.centervilleut.net.
South Weber is posting updates on its Facebook page and Ogden has an assistance line: 801-399-HELP.
Residents looking on the bright side
Meanwhile, many say the damage left behind — and the cleanup it requires — is reminding them of how good people can be. Bartholomew noted, that the hardship resulting of the storm has been softened somewhat by the outpouring of support from other affected community members.
"It seems wherever you go, you see a group of people that have just come together and are helping a neighbor out," he said.
---
It seems wherever you go, you see a group of people that have just come together and are helping a neighbor out.
–Bryan Bartholomew, Centerville resident
---
Another Centerville resident, David Williamson, has the unenviable task of trying to repair his heavily damaged roof as the temperature drops along the Wasatch Front over the next few days. But like so many of his neighbors, he is taking the prospect in stride.
"I'm finding a lot of joy on my weekend," Williamson explained sarcastically. "I have four days off (to repair) my roof that I wasn't going to fix until next spring,"
Williamson and his father-in-law expect to put down 250 square feet of new shingles in the coming days, something he doesn't know all that much about.
"I've done maybe one and half roofs my whole life, so that's the extent of my experience," Williamson said. Meaning there is no guarantee on his work.
"We'll wait until the snow and ice get on it to see if it holds up," he said.
Until then, Williamson said he considers himself lucky that the damage to his property was not any worse, especially compared to a lot of his neighbors.
"No trees on the house, my fence suffered some shots, got a shed with a hole through it," he said. "But we fared fairly well compared to others I guess you could say."
----
Written by Amy Joi O'Donoghue and Sam Penrod.
×
Photos
Related links
Related stories
Most recent Utah stories