Estimated read time: 2-3 minutes
This archived news story is available only for your personal, non-commercial use. Information in the story may be outdated or superseded by additional information. Reading or replaying the story in its archived form does not constitute a republication of the story.
**(AP Photo/Douglas C. Pizac, Pool)**Sam Penrod Reporting
Prosecutors have rested in the trial of polygamist leader Warren Jeffs. Now Jeffs' defense team is trying to show he had no tolerance for force of any kind in FLDS marriages and was there to intervene in such cases.
The defense called woman after woman, and many of them had to talk about their private lives, in open court, to help defend Warren Jeffs against rape by accomplice charges.
Warren Jeffs was whisked away by helicopter again Tuesday night after another day of his trial in St. George. His defense called several women, who all had nothing but good to say about Warren Jeffs and his involvement in solving problems in their marriages.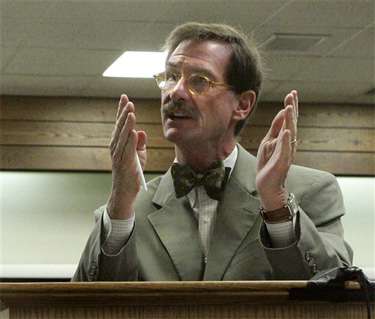 Joanna Keate told jurors, "He says, 'Are you coming together physically?' And it was quite obvious we hadn't. And he told us, 'That will come in its own time.'"
In all cases, the women were married in what they call placement marriages. The women testified they went to their father seeking marriage, who then took them to see the FLDS prophet. They were notified usually just the day before the wedding and would meet their husband, in most cases for the very first time, just moments before the ceremony.
Defense attorney Walter Bugden asked one witness, "Was there any expectation or belief on your part that you would go home on the evening of your wedding and have sexual relations with your husband right away?"
Margaret Thomas' responded, "No I didn't know him. It takes time to get to know your husband."
Two men testified they were taught by Jeffs that it was a woman's decision about when intimacy would begin.
John Keate testified, "My understanding that it was to take place when she was ready, and it was my job to love her and to help her feel comfortable with me."
All testified that dating and courtship began after they said, "I do."
Witness Verleen Jessop testified it was a week before she and her husband had sexual relations.
Prosecutors have been trying to show in these women's cases, they were not 14 years old, being forced to marry a cousin, and had not sought out marriage, which they say is exactly what happened to the victim in this case.
The defense will be calling more witnesses Wednesday.
×
Related links
Most recent Utah stories