Estimated read time: 2-3 minutes
This archived news story is available only for your personal, non-commercial use. Information in the story may be outdated or superseded by additional information. Reading or replaying the story in its archived form does not constitute a republication of the story.
Jed Boal ReportingWhile Utah's first Continuous Flow Intersection project is complete, other big projects are just getting under way.
Road building is a never-ending job, and the Utah Department of Transportation is using innovative techniques to make it easier on all of us.
Rebuilding a road or a bridge and keeping traffic flowing at the same time is not easy. The sight of orange barrels makes frustration rise, so UDOT is working the cutting edge to get the job done without driving us crazy.
We all run into sluggish orange-cone zones. But it could be worse. There would be more closures for longer periods of time if it were not for innovative planning and building methods.
Jim McMinimee, UDOT's director of project development, said, "Since we worked on I-15 a number of years ago, we've always been interested in reducing our delays."
McMinimee designs UDOT projects and looks for better ways to build.
"Recently we've had some projects where we tried to bring in some more innovative construction ideas and tried to reduce construction delays," he said.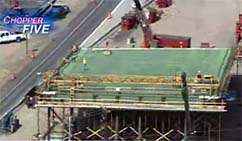 For example, construction of an off-ramp to nowhere at 4500 South and I-215. Crews are casting the three-million-pound bridge on-site. They'll move the steep deck into place with self-propelled modular transports. 4500 South will close for 10 days instead of four months, and I-215 will close for only 36 hours.
UDOT will use the same technique on many overpasses on I-80 from I-15 to 1300 East.
"[We're] trying to speed up our projects, trying to make our projects occur as fast as they can," McMinimee explained.
Road building is very expensive. It costs several million dollars to build a bridge. These innovative techniques can cost more, but UDOT says it's worth every penny.
"If you look at user delays, all of these innovations pay for themselves," McMinimee said.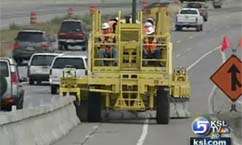 A powerful barrier mover on I-80 shifts barriers to create more lanes for heavy traffic and fewer lanes for light traffic.
Sometimes the best plan comes from listening. On 4500 South at State St., motorists and residents said shut it down and get construction over with. So the road was shut, and a lane expansion there took two months rather than five or six months.
Construction on I-80 will take a couple of years, so innovation can reduce a lot of frustration there.
- - - - - -
×
Related links
Most recent Utah stories