Estimated read time: 9-10 minutes
This archived news story is available only for your personal, non-commercial use. Information in the story may be outdated or superseded by additional information. Reading or replaying the story in its archived form does not constitute a republication of the story.
PROVO -- BYU won easily against the Idaho Vandals last week, but the loss came at a great cost as Riley Nelson left the game with broken ribs and a litany of related injuries. Jake Heaps had a chance to show off what he could do with the first-team offense. They are now running through a couple of games that they should be able to win easily before the Armed Forces Bowl.
The end of last season is a good indication of what BYU can do against sub-par team. They are averaging 28 points per game, and that is with 98 points against two Idaho teams. Last year they had a three-game stretch against the bottom of the Mountain West where they put up 144 points. These are games where you look at little things to critique and not necessarily the scoreboard (unless it's a loss).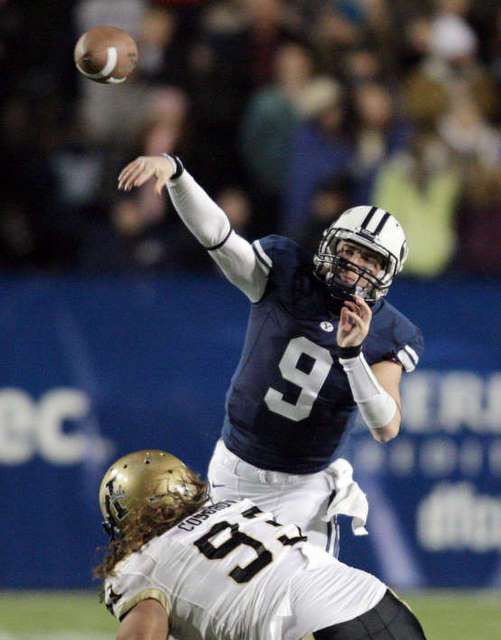 What did we learn from last week?
Heaps can play well enough: He had ups and downs through his starting job this season. Maybe sitting for a couple of games were good for him to learn a bit of what the changing offense was supposed to look like. He might have felt an absence from not playing and decided he needs to work harder to lead the offense. Maybe he was just playing an easy opponent. Whatever the reason, he was good enough for the win this week. He was 15 of 20 passing, well above his 50 percent rate. He did throw an interception, but had two balls dropped, and he did what Nelson did so well, let his receivers make a play. Every ball was close enough so Hoffman and Apo could make plays. That is all he will need to do to win these games.
The defense was fantastic: There was 83 yards on one play. They gave up 241 total yards on the game. Without that one play Idaho would have given up 158 yards. The defense has been prone to give up the big play, but when there isn't a big play the defense is as good a defense as there has been in Provo. As long as the defense has a long field to work with they can control any game. They are 7-0 this season when they have a better starting field position. They are 0-3 without. In the Bronco era they are 48-6 when they win the field position battle. This year the defense has given up 21 touchdowns. Four have been long drives, over 10 plays, four have been medium length, 5 to 10, which means 13 touchdowns have been four or less plays. They aren't piling up stats against bad teams either. The only long scoring drives came from Utah State and Oregon State. In both big scoring games, TCU and Utah, there were nine touchdowns, only one was more than five plays.
100 yards must be unlucky: Michael Alisa ended the game with 99 rushing yards. The BYU team has had one 100 yards rusher in a game this season, Nelson in the TCU game. This is a running team that uses all of their backs so well that they could have multiple 1,000-yard rushers and no 100-yard games. It won't happen that way this year, but everyone touches the ball and there are some gaudy averages, Nelson and Alisa average 5.6 yards per carry and JJ Di Luigi averages 5.1. Looking into next year it will be interesting to see how they balance between rushers when Di Luigi and Bryan Kariya are gone.
BYU won penalties and turnovers: This was the first game this year that BYU had fewer turnovers and penalty yards in a game. They won against Texas in penalties and were tied in turnovers, but they never won both. For a team that relies so heavily on field position, they need to keep these problems fixed.
What lingering questions do we still have?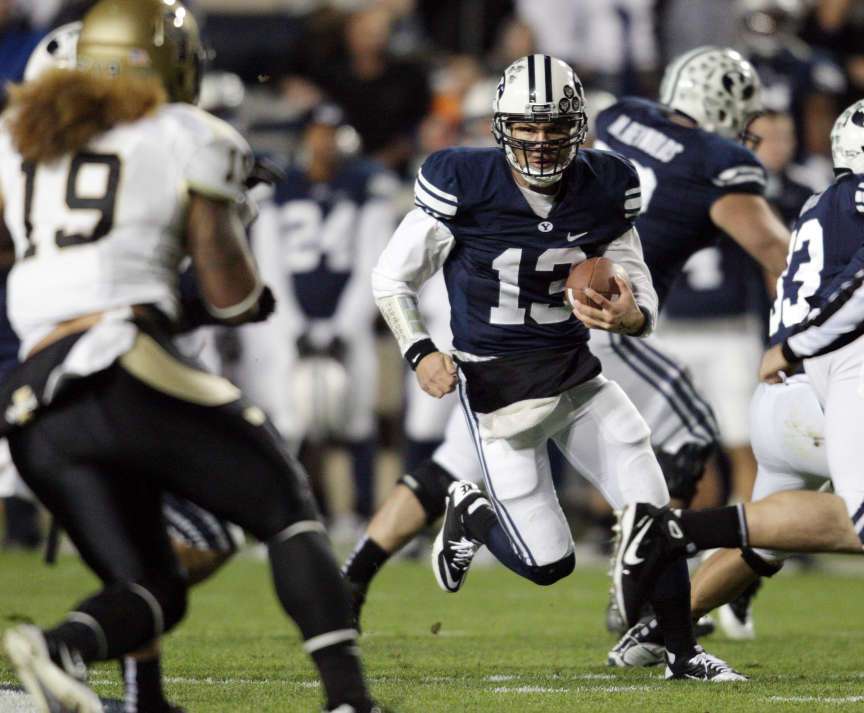 Could Nelson's injury have happened at a worse time? Yes, they won the game and probably will win the last two without Nelson, but it may create another problem in the coming year. What happens is Heaps puts up four touchdowns and looks great? What if he plays awful, does he lose all hope? What if the Cougars blow out the last two teams and James Lark outplays Heaps? It could be a good problem to have, but everything was falling into place with Heaps redshirting and learning for a year. Mendenhall has a plan and will execute it for what is best for the team, but the play of two backups could make him second guess his decision. What can be done with the kicking games? There was a good game against UCF, but they have slowly fallen apart since then. Everything came apart against TCU, and now both kickers have to be looking over their shoulders to see if they are going to get the job next week. While the BYU special teams hasn't been a great strength over the past two years they haven't been this scary in a long time. The return games have been as good as a generation of fans has seen, but Justin Sorenson and Riley Stephenson just haven't been playing well.
Will another night game result in more low attendance? This is less about the team, but about the fans. This game will start at 8:15 at LaVell Edwards Stadium, and it is supposed to be cold. There may be another 58,000 announced, but the stadium will be closer to half-empty than half-full. These games aren't great, but it can show a difference between fans and die-hards. If anyone stays through the end they will probably be able to drive home in record time.
What can BYU expect from New Mexico State?
An explosive passing game: They only have 12 more passes than runs on the season, but the passing game is averaging 302 yards per game and the running game is only at 123 per game. Senior quarterback Matt Christian missed the first three games of the season but has 1,808 yards passing in the past seven games. He has two poor games, Georgia and Idaho, where he had 258 yards total. They have needed to come from behind, which could account for a large amount of the passing yards, but they do have the ability to go big.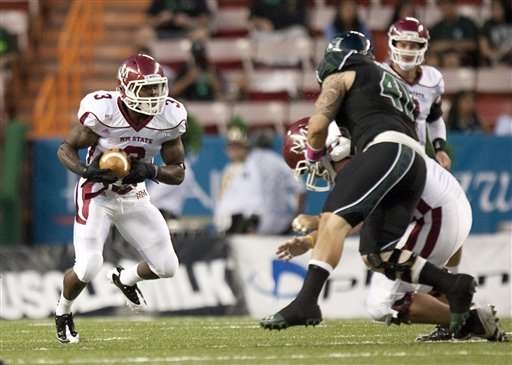 The worst FBS defense they have played: They give up a lot of everything, 37 points per game, 208 yards on the ground and 466 yards per game. That is 112th in points and total defense and 107th in rushing yards. Donyae Coleman is leading the team in tackles by 26, which isn't good because he is the team's safety. There second leading tackler is also a defensive back, Ben Bradley, with 73. That means they let runners get into their secondary a lot. They are a senior-led group, but may be lacking some athletes. Coach DeWayne Walker was the defensive coordinator for UCLA when BYU put up 59 on them.
A lot of Kenny Turner: Turner is the team's leading rusher and gets the ball a lot. He has just under half the teams carries on the season with 799 rushing yards and nine touchdowns on the ground. Turner is also second on the team in receptions with 42. He should go over 500 yards receiving this game and he has three touchdowns. If BYU lets Turner get loose a couple of times this game could be closer than it should be.
What can we expect from BYU this week
As boring as it sounds, keep the same plan and execute: They are running the ball and grinding the clock and looking to eliminate mistakes. They will have the chance to do so and the numbers will be up over 250 yards. It will be interesting to see if Heaps can make it through a game without a turnover. This is the softest defense he will face and if he can't do it against them there may be big problems lurking. They could carve out big runs, but they will need to hold onto the football and not get lax in their ball carrying.
A Senior Day filled with underclassmen: This could be a game where BYU wants to score quickly to put the game out of reach. They will want to play the seniors on the team and that will happen with a blowout. There are 19 seniors on the team and Bronco will want to play all of them, since this is his first senior class he has gone through with (six years including missions is a full senior class at BYU). Senior night will be filled with young playmakers. Heaps, Alisa, Hoffman, Apo, Holt, Van Noy and Uona Kaveinga are probably the most impactful members of the team and only Kaveinga is older than a sophomore. Di Luigi could be added to the list as the lone senior.
Soft defense to eliminate a big play: The defense can stop anyone, but they will look to keep the one or two big plays down by playing a little more conservative than usual. This is again about the seniors, they want to run the clock down and keep the score low. When the margin is up around 28 they will start playing the seniors and take down the clock.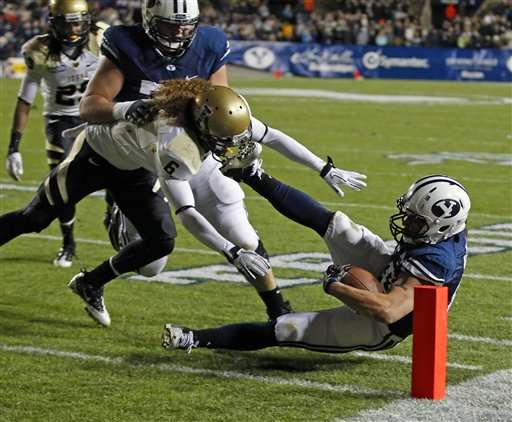 Another wild special teams ride No one knows how it will happen, but there will be a big play on special teams. Good or bad for BYU there will be one, a blocked punt, field goal return, kick return for a touchdown or a bad snap. This may be the only exciting play for New Mexico State team.
Notes and stats:
This is the first game between BYU and the New Mexico State Aggies.
BYU is 48-37-4 against teams with Aggies as their mascot. (Utah State, Texas A&M, UC-Davis)
JJ Di Luigi is on pace to rush the ball 115 times this season that would be the lowest total carries for the BYU leading rusher in the Bronco Mendenhall-era and the lowest since 1999 when Fahu Tahi ran 102 times for 471 yards.
This will be the seventh home game this season for BYU, the last time BYU played their seventh home game in a season was 1996 when Steve Sarkisian led BYU to a 49-0 victory over Rice.
Conclusion:
BYU wants to run the ball and New Mexico State can't stop the run. The offense should be able to run over the Aggies and get down the field on the ground in a hurry. The Cougars will then utilize the play-action to buy Heaps time to find Apo and Hoffman. The bigger questions will be how many points will the defense give up. The Aggies' offense is better than Idaho State and Idaho's. Will there be a big play for them? If they don't get one big play then the score should be really low, if they do it could be in the teens.
The special teams edge may actually go to New Mexico State, at least the kicking games, but that is mostly because of the slumping Cougars. In the end this game shouldn't be close. The running game will put up big numbers and both Heaps and Lark will have effective days.
Prediction BYU: 45 New Mexico State: 17
×
Related stories
Most recent Sports stories