This archived news story is available only for your personal, non-commercial use. Information in the story may be outdated or superseded by additional information. Reading or replaying the story in its archived form does not constitute a republication of the story.
LAS CRUCES, N.M. – The BYU football team will celebrate Senior Day this week against New Mexico State. This will mark the first meeting between the two schools on the football field, and both offenses exploded for more than 40 points in each team's last game.
NMSU head coach DeWayne Walker is completing his third season in charge of the program in Las Cruces, N.M., which has been a tough place to get wins for the first-time head coach. The Aggies kept bowl eligibility alive with a shootout win over Fresno State last week and now travel to Provo looking to keep momentum for the final weeks of the season. Kickoff is scheduled for 8:15 p.m. MT and the game will be broadcast live on ESPNU.
Walker met with the media earlier this week to reflect on the win against Fresno as well as this week's showdown with BYU. Here is what he had to say.
On last week's game against Fresno State:
"It was a barn burner for sure. I knew heading into the game that it could be a track meet, to a certain degree. They have great offensive personnel, and we feel that our personnel on offense matched up. So I knew even throughout the game that whatever defense that made key stops at the end of the game would probably win. So, we were fortunate that our defense had a couple of key stops and we were fortunate to beat a good Fresno State team."
On Taveon Rogers being named WAC Special Teams Player of the Week:
"I am just so happy for him. He has arguably probably improved the most out of all of our players. We've had quite a few players that have improved, so it is great to see good people have good seasons. And he is definitely a good kid, so it is great to see him having a good year."
On where the program is in year three:
"I think we are much improved. We are not a finished product by any means. We may be another recruiting class or two away from really having the type of football team that I think we can have, but we are definitely heading in the right direction."
On the WAC agreement with BYU:"When you lose Boise State and add BYU, it is pretty similar. So, I think it is really good. I know at least for our program to kind of see where we are at this stage of the season."
On playing a late-night game on ESPNU:
"I think for our program, any time that you have a chance to be on TV and just try to show our brand of football, what we are trying to do to build a program – I think you have to play whenever they tell you to play. We are just going to do our best against a real good BYU football team, try to be competitive, and get into the fourth quarter and see if we can pull one out. I know our coaches, our players and our University; we're excited about even having the opportunity to play on TV."
On history with BYU:
"I was on LaVell Edwards's staff in 1994, so I have had a chance to be around that program. Even at UCLA, we had some good games against them. I really respect what Bronco (Mendenhall) has done with that program. Tom Holmoe, the AD, we worked together at Cal Berkeley, so I just have to give respect to that program."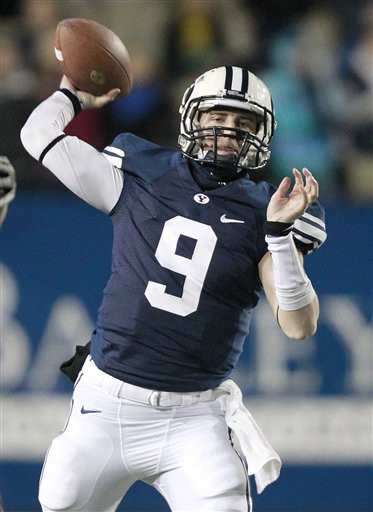 On what he took from coaching at BYU: "(A good program has a) solid foundation, solid kids and solid coaches. I was there with Barry Lamb. We coached the secondary together and (it was) just great karma. I really enjoyed working with that staff and having a chance to be around Coach Edwards. I've taken some things to try to instill in our program as well."
On whether or not the defense is the same as he used at UCLA:
"I know it's tough trying to defend BYU's offense. We've had a little bit of success when I was a coordinator, but there was one year they just killed us. I'm not calling the defense right now; coach Dale Lindsey, the defensive coordinator, is. I may have input here or there, but the one thing that we want to be able to do as a football team is play hard, play tough, be resilient, and that is really the handprint that I am trying to put on our program."
On BYU's quarterback situation:
"I think they are going to do what they do. The one thing with (Riley) Nelson, he did it with his legs. Obviously, he is a quarterback that can throw it, he's mobile and he can run, so that always adds another concern. With Jake (Heaps) over there, we are going to have our hands full no matter who is at quarterback. We are just going to try to come up with a good, prepared game plan, and hopefully our game plan works."
Landon Walters is a history and political science major currently studying at Salt Lake Community College. He is an avid sports fan and loves writing. He can be reached at mavericksoccer_22@hotmail.com
×
Related Stories