This archived news story is available only for your personal, non-commercial use. Information in the story may be outdated or superseded by additional information. Reading or replaying the story in its archived form does not constitute a republication of the story.
PROVO -- As a possible 10-win season is coming to a close, there are still scenarios that remain in the beginning stages, namely, the quarterback situation which may perpetuate into a third year drama.
But before those questions can be answered, the Cougars have to face an offensively dangerous New Mexico State squad.
Here are the top storylines for this game:
1. Taveon Rodgers.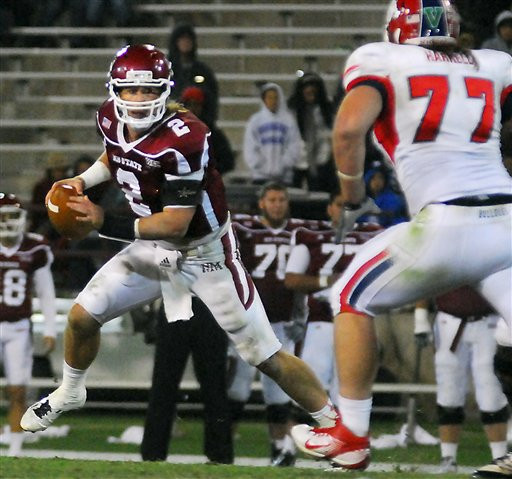 The BYU defense and special teams need to know where #1 is at all times. He is the country's leader in all-purpose yards this season just ahead of Tavon Austin of West Virginia and LaMichael James of Oregon.
Rodgers averages 21 yards per catch, and has already returned three kick offs for a touchdown this season. The man has blazing speed and can make consecutive cuts that leave defenders stuck in the ground and unable to recover with proper angles. He is the kind of guy that can make a 200-yard differential in favor of their opponents inconsequential by a sudden big play on special teams or in the passing game.
There is no doubt that he will make a few big plays. The BYU secondary simply cannot let him get behind them multiple times or he can score in a hurry.
2. Pressure Matt Christian
The Aggies quarterback has a pretty good arm and throws a decent long ball. His Achilles heal: Not being able to step into his throws. Because Rodgers is such a dynamic threat down the field, and undoubtedly the Aggies have seen enough film of BYU's defense to know how to occupy the safety and get a one-on-one match up with the corners, the front seven will be the secondary's best friends if they can force Christian to get rid of the ball before he is set or before Rodgers can weave into open field.
3. Run All Night
I'll admit I was super surprised to see how effective the New Mexico State offense is on film. They can move the ball effectively and can score very fast. They scored 34 points against Nevada and Hawaii earlier this year. However, they lost those games because they gave up 48 points to the Wolfpack and 45 points to the Warriors.
BYU will benefit from the run game by overpowering the Aggies, control the pace of the game, and keep the ball away from Christian, Rodgers and the productive offense.
4. Running backs
In an effort to create some sort of push at the line of scrimmage and to create a little pressure on the quarterback, the NMSU defense has to bring a 5- or 6-man rush. They do a pretty good job with the scheme, but the difficulty of any pressure is losing track of the running backs. If a running back swings or releases to the side of the pressure, there is nobody left in coverage to pick him up. Opposing teams have really taken advantage of this and I can see BYU sneaking JJ DiLuigi and Michael Alisa out on simple routes and let them do work in space.
Go Cougs!!
×
Related Stories