Estimated read time: 2-3 minutes
This archived news story is available only for your personal, non-commercial use. Information in the story may be outdated or superseded by additional information. Reading or replaying the story in its archived form does not constitute a republication of the story.
Jed Boal ReportingThe search for missing aviator Steve Fossett continues in Nevada. Amateurs are even involved now, looking for clues from around the world. It's been 10 days since the adventurer took off from a private airstrip and disappeared.
Dozens of aircraft still search for Steve Fossett's plane in the Nevada Desert, an area twice the size of New Jersey. They follow leads and hope a different approach turns up clues.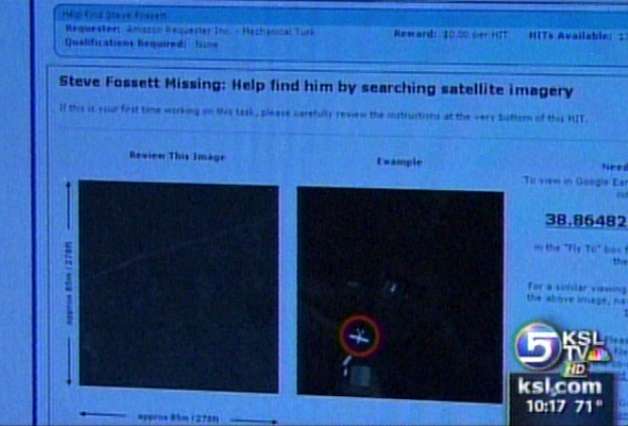 Pete Ashdown, president of X-Mission, said, "I think it's a very creative way to get people to collaborate and get involved in volunteering to help find this person."
Tens of thousands of people are online looking at satellite photos of that area, searching for the plane. Fossett's friend, billionaire Richard Branson, worked with Google Earth to get tens of thousands of people searching images on their computers.
Ashdown said, "No matter your background, your skill set, you can come on and give a hand if you're willing to do so."
Google Earth images are not typically current. The company buys them from satellite operators.
"It's just a matter of saying, 'Hey we want more recent pictures of this area, taken over this period of time.' Money talks, and they'll do it for them," Ashdown explained.
Google fed updated images to Amazon.com, which could better run a global community search. Tips have already helped identify a half-dozen other plane wrecks.
We talked with search and rescue operations for Salt Lake County and asked them whether this could have been a useful tool in recent searches in Utah. They said it sounded like an interesting technique, but it won't work for every search.
Ashdown said, "I would love to see that happen. I think a big part of the problem is the cost."
It costs $100,000 for a search like this. Utah searchers also doubt satellite images would have pinpointed 3-year old Benji Myrup in the Uintas or Camille Cleverley in Provo Canyon. Those searches covered extremely rugged terrain with dense foliage. But Google Earth could help in Utah's desert terrain.
In years to come, new innovations should provide even better search tools.
×
Related links
Most recent Utah stories