This archived news story is available only for your personal, non-commercial use. Information in the story may be outdated or superseded by additional information. Reading or replaying the story in its archived form does not constitute a republication of the story.
SALT LAKE CITY — Hundreds of Vocal Point fans cheered as the BYU men's a cappella group stayed in the running on NBC's "The Sing-Off" Monday night.
The nine-man a cappella sensation wowed the judges with "You Really Got Me" by the Kinks as its rock-n-roll hit and "Life is a Highway" by Rascal Flats as its country hit.
The judges said the "Utah boys" came off a tough week with a strong showing as the group's members started back to class in the middle of competition.
"Sometimes we rehearsed in the airport shuttle," said Ross Welch, one of the Vocal Point singers.
Delilah — the female group comprised of singers from the shows' first two seasons including Mormon lead singer Amy Lynn Whitcomb and vocalist Laina Walker — was eliminated.
Delilah's rock-n-roll song "Dream On" by Aerosmith impressed the judges as Whitcomb "took it up into the stratosphere" with her vocals.
Dubbed a "female Steven Tyler" by Judge Shawn Stockman, judge Sara Bareilles said perhaps the group peaked too early, leaving themselves nowhere to go.
In its country number, "If I Die Young," the judges cited pitch problems but called the song emotionally compelling.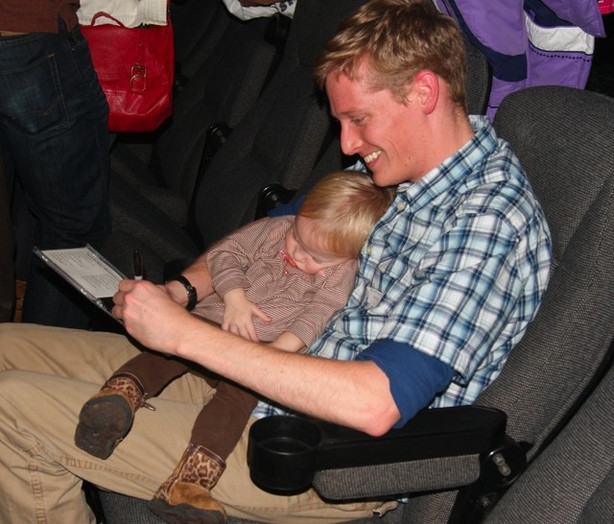 Vocal Point, in ruffled shirts and dark jackets, leaped and jumped onto the stage, the steps and even into the camera lens with its rock-n-roll number.
"How adorable are they?" asked Bareilles.
"Is that how they do it in Provo, Utah?" Stockman asked. "You showed a little bad boy and put your Vocal Point stamp on it. You came through."
For "Life is a Highway," the "BYU boys" put on cowboy hats, flannel shirts and boots and sang "legitimate country," according to judge Ben Folds. "It sounded right. You pulled it off musically."
"You're all so proud of yourselves when you're done. It's so freakin' cute," Bareilles said.
Six of the Vocal Point members attended the party at Jordan Commons Megaplex Theaters Monday surrounded by more than 200 fans and friends.
They explained that they had access to network choreographers and arrangers but got so used to working together over the weeks they taped the shows that they basically arranged everything themselves.
Vocal Point member Keith Evans said it was still terrifying to see himself on the big screen just because "you're never sure what they'll catch and how it will look."
Performance
Vocal Point will perform many of its Sing-Off numbers at a matinee concert.
Saturday, Nov. 19
Covey Center for the Arts
425 W. Center St.
Provo
2 p.m.
"It's a surreal experience to watch ourselves," said Welch, who sang a soulful rock lead for the group's first number.
"What surprised me the most is how much goes into the performance before you ever see it," said McKay Crockett, also a Vocal Point singer.
Vocal Point founder Bob Ahlander and his wife organized the local party and used the night to raise money for the group members who are full-time students with part-time jobs trying to balance books and the demands of a short-term show business career.
Vocal Point won the opportunity to be on the show with an audition tape, selected as one of 16 groups to be on the nationally televised show.
The groups have been whittled down to five: Vocal Point; Pentatonix from Arlington, Texas; Urban Method from Denver, Colo.; the Dartmouth Aires from Dartmouth (which includes singer/director Nic Chuaqui from Salt Lake City) and Afro-Blue from Howard University. With three more weeks before the live finale on Nov. 28. During the finale, the television audience will choose the winner. ("The Sing-Off" airs at 7 p.m. Monday nights on Ch. 5.)
Next week the groups will be singing R&B songs.
Evans said that won't be a problem for Vocal Point.
"It's a little more what we do than these have been," he said after the show. "But if the first thing the judges say is 'It's fun. It's entertaining. It has musical punch,' that makes us smile.'"
Sharon Haddock is a professional writer with 35 years experience, 17 at the Deseret News. Her personal blog is at sharonhaddock.blogspot.com. Email: haddoc@desnews.com
×
Related Links
Related Stories