Estimated read time: 2-3 minutes
This archived news story is available only for your personal, non-commercial use. Information in the story may be outdated or superseded by additional information. Reading or replaying the story in its archived form does not constitute a republication of the story.
Sam Penrod ReportingFormer computer salesman Dell Schanze is now facing another investigation by the Federal Aviation Administration; that's after a report aired last night on Eyewitness News about Schanze on his paraglider flying close to a cruise boat on the Great Salt Lake.
Schanze is fighting back, claiming on his blog he was only entertaining the passengers. But his low flying stunt has the attention of federal investigators who aren't laughing about it.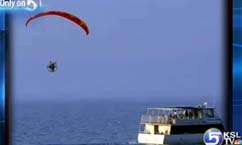 Schanze was flying his powered paraglider out on the Great Salt Lake last Friday, when according to the boat's captain, he buzzed the boat four or five times. There were 38 passengers and five crew members on board, and someone from the shore took several photos.
Today, Schanze posted on his blog that he saw the boat and was interested in taking a cruise on it. Quoting Schanze now who writes about himself in the third person: "To get the name of the cruise company he flew a bit closer in hopes he would see a name or logo. He then noticed the passengers were very excited to see him. They were waving him closer and taking pictures. One gentleman invited him to come closer and take a drink he was holding out. Knowing the rules he kept more than a safe distance and declined the invite. He remembered from experience how there always seems to be someone that will greatly exaggerate any encounter and use it to concoct stories of horrific danger."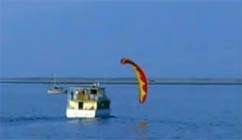 Schanze also says he is running for governor and blasts KSL for our report last night, calling it "a horribly evil attack against the honorable world record setting pilot Dell Schanze."
Schanze was already warned by the FAA last year for flying low over I-15. Investigators at the FAA say they have opened a new investigation in this case and will release their findings of Schanze's flight in the next few weeks.
×
Related links
Most recent Utah stories