Estimated read time: 3-4 minutes
This archived news story is available only for your personal, non-commercial use. Information in the story may be outdated or superseded by additional information. Reading or replaying the story in its archived form does not constitute a republication of the story.
SALT LAKE CITY — After a decade of war in Afghanistan, our troops certainly pay the dearest price. But the care they receive when they get home has changed over the last 10 years, and so has community support.
One look around the campus of the George E. Wahlen Department of Veterans Affairs Medical Center, and you'll see there's construction going on everywhere. They're building more facilities and developing specific programs to help the nearly 10,000 Utah veterans who've enrolled in the last decade. With more vets coming home from war, that number will continue to grow.
Shayn Jolley is among that new generation of Utah veterans seeking care at the VA. He was on one of the first two Navy aircraft carriers sent to the Middle East right after 9/11.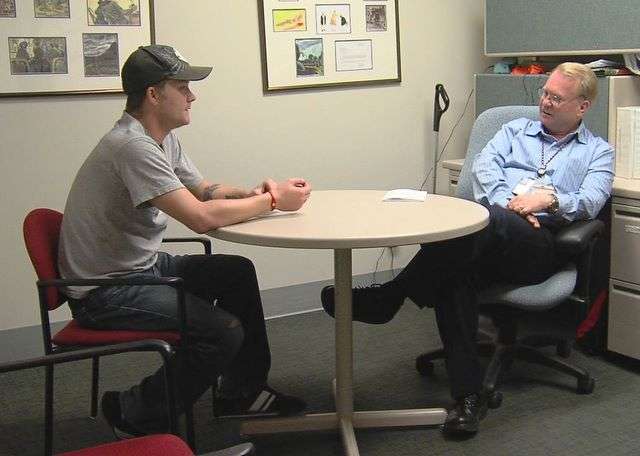 "There was one carrier bombing during the day and one carrier bombing during the night, nonstop," Jolley said. "Two thousand-pound bombs were going out all the time. I lost count of how many bombs we sent off that didn't come back."
Monday, he met with his VA case manager in the new clinic dedicated to the troops who fought in Afghanistan, Iraq and other aspects of our current conflicts. Jolley said the war took an emotional and physical toll, but he believes America did the right thing.
"We can't let terrorists come over here and do whatever they want without some retaliation," Jolley said.
When they leave the battlefields, come home, and get out of the service, thousands of young Utah vets like Jolley are discovering a VA that adapts to their needs.
"It's really our moral obligation as a state to take care of those folks who have borne this burden for us," said Dr. Steve Allen, director of the VA's post-traumatic stress disorder clinical program.
Allen hopes the community recognizes that less than one half of 1 percent of our population has shouldered the burden and taken the physical and emotional brunt of the war.
---
It's really our moral obligation as a state to take care of those folks who have borne this burden for us.
–Dr. Steve Allen, VA's PDSD clinical program director
---
"Those folks have suffered severe dislocation in their lives," Allen said.
During the decade of war in Afghanistan and Iraq, Allen's seen health care improvements across the board, including a 93 percent survival rate among the wounded.
But among those who survive, many come home with severe disabilities. One-third of returning vets struggle with mental health issues like depression, substance abuse, and PTSD. The unemployment rate among new vets is about twice that of the civilian population.
To tackle those issues head-on, the VA opened a new OEF/OIF Clinic — a special area in the hospital specifically dedicated to this new generation of vets. It helps them navigate the system quickly and efficiently.
Jeff Rogers is an Air Force veteran who deployed to Bagram Air Base in Afghanistan in 2004. He's getting treatment for a neurological inner ear problem, but he also works in the IT department at the hospital.
"I think every conflict is different," Rogers said, "so the VA has to be intuitive enough to create programs that are going to be able to address the needs."
Comment:
While he works at the VA, Rogers sees the care his comrades get: remarkable progress in prosthetics, substantial programs for the homeless and unemployed, maternity care for female vets, and real progress for vets suffering from PTSD.
He also knows that his generation of veterans gets the kind of community support that was denied and delayed for so many veterans of the Vietnam War. He's glad our community shows respect and support for all of our troops.
"There's a lot of voices out there," Rogers said. "There's a lot more organizations and advocates for veterans that didn't exist in prior conflicts."
Meanwhile, Allen believes that as a community it's up to all of us to help show support for that small percentage among us that volunteered for these wars.
Email: jboal@ksl.com
×
Related links
Related stories
Most recent Utah stories