This archived news story is available only for your personal, non-commercial use. Information in the story may be outdated or superseded by additional information. Reading or replaying the story in its archived form does not constitute a republication of the story.
DUCHESNE COUNTY -- A small town football game ended in chaos when police used pepper spray on fans and players. Fans we talked to called it an over-reaction to a post-game celebration.
The game took place Thursday night in Duchesne County on the Union High Cougars' home turf. It was the final game of the season for two winless teams--Uintah High and Union High. The schools are separated by only 30 miles and are longtime rivals.
The Union Cougars lost the game. As the players left the field, a group of Polynesian fans tried to boost the team's morale by performing the Haka, a fierce, traditional war chant often performed at football and rugby games around the state.
The group of about 15 men and boys were blocking the exit from the field, though, so two officers ordered them to move.
A Roosevelt resident who wished to be identified only as Breana, said her husband was among the performers.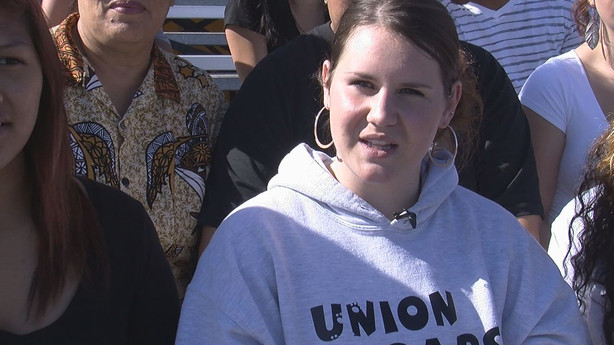 "The cops were yelling, 'Make a hole! Make a hole!' But the coaches, the players, family members were saying, 'It's OK. It's OK, Let them do it,'" she said.
Witnesses say police didn't listen. Instead they began spraying everyone with pepper spray, including performers, players and fans.
"It was continual spraying and spraying," Breana said.
She said her husband was hit int he face with a police baton and sprayed with the pepper spray. Her 4-year-old son was also exposed to the spray.
Shawn Mitchell said his young son and daughter and his mother-in-law were also affected by the pepper spray. He called the police resonse to the Haka an overreaction.
"I didn't see anything that looked like there could be a threat," he said.
Mitchell did acknowledge that because the performance wasn't planned, that might have played a role in how police responded.
"If they're going to do something like that, maybe some planning could be done ahead of time," he suggested.
Roosevelt police did not want to go on camera but did say that the incident is under investigation. They also want to hear from anyone who saw what happened after the game.
The people who performed the Haka are mostly from the Wasatch Front. They traveled to Roosevelt to watch a relative play his final high school game.
Email:geoff@ubstandard.com
×