Estimated read time: 4-5 minutes
This archived news story is available only for your personal, non-commercial use. Information in the story may be outdated or superseded by additional information. Reading or replaying the story in its archived form does not constitute a republication of the story.
KSL Team CoverageThe search for the missing BYU student is now over. Camille Cleverley has been missing for more than a week. Late this afternoon search and rescue teams found her body near Bridal Veil Falls in Provo Canyon.
Cleverely's body was found at the base of a cliff near Bridal Veil Falls. Police say it appears she fell, but it's too early to know if there was any foul play involved in her fall.
For more than a week Camille Cleverley's family just didn't know; now they do.
Utah County Sheriff Jim Tracy said, "At 3:31 this afternoon search and rescue personnel from a joint operation located Camille Cleverley about 1,000 yards east of Bridal Veil Falls."
Search crews found her in thick brush near the base of a cliff. It's a spot they've looked in before but because of the terrain just didn't see her.
"It's so dense in that area, that literally if you had been 10 feet to the left or right, they may not have seen her," Tracy said.
Her family and friends were at Bridal Veil Falls and received the bad news right away, but at least they now know.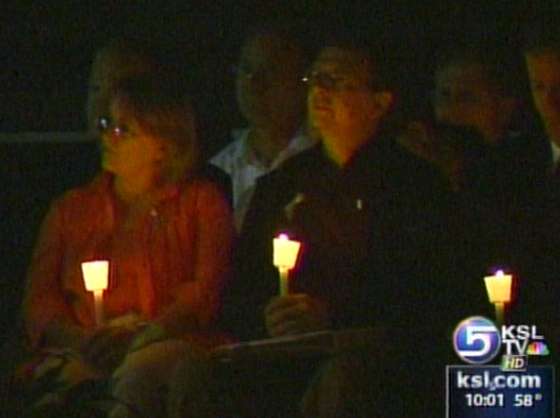 Craig Geslison, with the Provo Police Dept., said, "It's a sense of relief she's been found, but it's very regrettable it's this type of situation."
Now the investigation will focus on how and when? Did she slip and fall, was there foul play, or did something else happen? Police say she knew the area.
Tracy said, "According to the family and the boyfriend, they had been up here several times. That doesn't mean that you couldn't end up in trouble."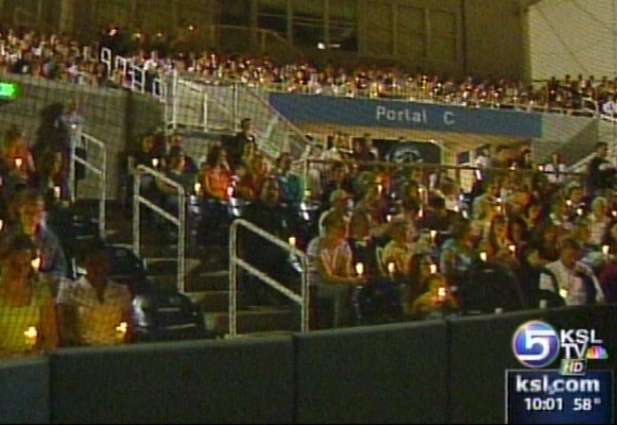 In fact, the spot where searchers think she fell from is a spot with lots of small, loose rocks, where others have gotten into trouble before.
"They end up in a situation where they get ledged up, or they get into an area where they slide and do suffer fall injuries," said Tracy.
Those close to the family say even though they know where Cleverley's life ended, dealing with it isn't easy.
Kevin Bardsley, whose son Garrett was lost in the mountains and never found, said, "They're in great grief right now. A loss of a child is something that you can't even imagine."
Cleverley's body was brought down the mountain a couple of hours ago. An autopsy is scheduled to see if more answers can be found.
---
The search for Cleverley started just over a week ago. She was last seen on Thursday, August 30, but it wasn't reported to police until the following Saturday. Friends and family began posting 1,500 fliers around campus on Sunday. That same day Provo police issued a missing person's alert.
As volunteers continued to comb Provo Canyon on Tuesday, investigators revealed someone had used Cleverley's bank card to purchase food at a Provo convenience store.
By Thursday the search turned from a runaway situation to the possibility of an accident or foul play. That's also when investigators began searching the Bridal Veil Falls area because a Utah county couple admitted they stole a bike that was believed to be Camille's.
Just yesterday investigators searched Camille's apartment again and found a key to a Master Lock. That lock opened the lock that was found at Bridal Veil Falls, where her bike was stolen a few days earlier.
---
Hundreds of people gathered tonight for a candlelight vigil at BYU to remember Camille Cleverley. The vigil was already planned for tonight, to bring everyone together in hopes Camille would be found. Instead, it became a memorial service to remember her and give everyone a chance to mourn.
Elizabeth Smart played the harp tonight as her parents and family, along with hundreds of BYU students, gathered together for a few minutes to remember Camille. Many of those in attendance tonight included her friends, classmates and other students who were drawn to her story over the last week. Also there tonight were the police detectives and the volunteers involved in searching for her.
Her family paid tribute to Camille and everyone who worked together to find her.
Joel Cleverley, Camille's father, said, "There are many who are willing to love and pray for us, which gives us sustained strength and hope, even now."
Her mother, Susan, said, "These candles tonight will remind me of the divine spark in each of you and in our daughter, Camille."
"I'm thankful for all your efforts, and I want you to recognize your hearts and your service throughout this last week. It's been tremendous. And what great brothers and sisters you've been to Camille," said Camille's brother, David.
While it was a very somber occasion, those who attended the service left with a feeling of closure from this tragedy, which has helped to bring the community together.
×
Most recent Utah stories