Estimated read time: 4-5 minutes
This archived news story is available only for your personal, non-commercial use. Information in the story may be outdated or superseded by additional information. Reading or replaying the story in its archived form does not constitute a republication of the story.
Alex Cabrero and Sarah Dallof ReportingIt's been more than a week since BYU student Camille Cleverley disappeared. Saturday hundreds of volunteers again searched in Provo Canyon, looking for any clues that might lead them to her.
Provo police say investigators searched Camille's apartment again Saturday and found a key to a Master lock. That key opened a lock that was found at Bridal Veil Falls, the spot where a bike believed to be hers was stolen a few days ago.
Police also found bank transactions and store receipts indicating Camille bought the bike and a lock on the same day back in June. Investigators have still not determined if the bike found in Provo Canyon is Camille's.
In another development, Cleverley's boyfriend, David Sperry, passed a polygraph test overnight. It still has to be looked at by an outside investigator, but early indications are that Sperry is telling police everything he knows, and it's all the truth.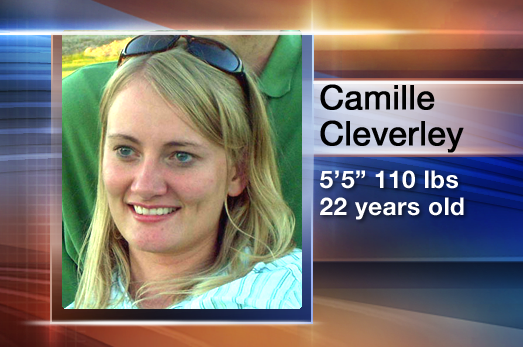 Still, no one knows where Cleverley is.
In Provo Canyon, it's been a rough, steep two days for search and rescue crews. And there are still plenty of places for them to look.
Lt. John Geyerman of the Provo Police Department said, "Some of the areas we didn't get to yesterday. Some of the areas our search and rescue team thought we should go over again."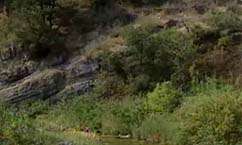 There's a reason why not a lot of people have been to the top of Bridal Veil Falls.
Sgt. Tom Hodgson of the Utah County Sheriff's Office explained, "It takes a lot of time. You're talking about some very steep slopes. [There's] a lot of water up there people can't see, that we're concerned about, with the slick rocks and things of that nature."
Hundreds of volunteers have been coming to Bridal Veil Falls to help police search for Camille. But police say they'd rather those volunteers search on the ground and in parks, because in the mountains you really need to know what you're doing.
"We can't just take a person off the street and put them into that environment, for their own safety," Hodgson said.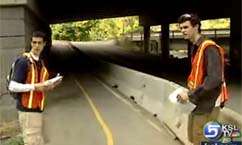 That is why volunteers Bryce Moulton and Nathan Parr, both BYU sophomores, are sticking to the ground. Their job is to ask people who visit the Bridal Veils Falls area if they've seen anything unusual or out-of-place.
Parr said, "If I was lost, I'd hope someone else would come and try to help find me, too."
Moulton said, "I don't personally know her. I don't think I've ever seen her before. But she's like any classmate. You sort of feel for them. You feel for their family, and you want to help out."
"I'm pretty sure she's out there, and we'll find her," Parr said.
The search for Saturday has ended, but officials plan to pick it up once again Sunday morning.
Law enforcement requested the help of a unique search organization today. It's headed by the fathers of two Utah children who disappeared about a year apart. One child was found, the other is still missing.
Saturday searchers combed a five mile radius around the BYU campus and Cleverley's apartment. And Sunday volunteers will hike the mountains surrounding Bridal Veil Falls at the request of two men who know all too well what the Cleverley family is going through.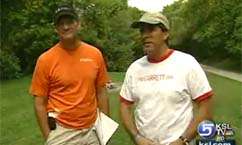 This is how Kevin Bardsley is paying it forward. In 2004 his son Garrett disappeared from a scout trip in the Uintah Mountains. The 12-year-old boy, who would now be 15, has never been found.
Kevin Bardsley said, "Garrett will always be in my heart, always be a part of me."
The love and support from the community stuck with Bardsley, inspiring him to start the Garrett Bardsley Foundation, which coordinates search efforts for other missing Utahans.
"There was no way in a million years I could thank everyone. And to me, this gives me an opportunity to pay it back again," Bardsley said.
Today Bardsley worked with Dale Hawkins. Hawkins' son Brennen got lost in 2005, also in the Uintahs, but was found in good condition by rescuers four days later.
Dale Hawkins said, "The Cleverleys need to know that we love them. They need to know that there are people who are concerned, and people who are willing to help."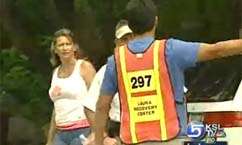 Following a request for help from law enforcement this morning, the men put out the call via phone trees and e-mail lists. This afternoon searchers were already arriving.
Volunteer Mike Esplin said, "Along with the best people in the state up here. Every time he calls, it seems like the right thing to do."
Due to the difficult terrain, they came armed with hiking boots, water and GPS, along with the hope that they can find Camille Cleverley.
If you'd like to join their search, meet at the base of Bridal Veil Falls Sunday morning at 7:30.
Besides the right clothing, volunteers also need to be physically fit. If you have a GPS device, bring it. And be sure to take along ID. Tell the official at the security checkpoint that you're helping the Garrett Bardsley Foundation.
×
Related links
Most recent Utah stories