Estimated read time: 2-3 minutes
This archived news story is available only for your personal, non-commercial use. Information in the story may be outdated or superseded by additional information. Reading or replaying the story in its archived form does not constitute a republication of the story.
Sarah Dallof ReportingRoy police say they've caught a scam artist who was using the Crandall Canyon mine collapse to collect checks she would later cash at a convenience store for her own use.
Investigators aren't sure how much money the suspect collected. They're still counting it up. And they're confident there are more victims out there who don't yet know they've been scammed.
Every little bit helps. That's what Debbie Weaver was thinking when a woman knocked on her door asking for money.
"She just said, 'We're going door-to-door to see if you want to donate to the families of the six trapped miners,'" Weaver said.
She says she had a funny feeling about the woman, but wrote a check for $5 anyway.
"I didn't want to feel bad, or make them think I don't care because I didn't want to donate," Weaver explained.
Det. Bryce Weir of the Roy Police Department said, "That's what she was looking for, people who wanted to be good people, help in the tragedy."
Roy police say Weaver's intuition was right. They say 25-year-old Hope Ellison was scamming dozens of people in cities across Weber and Davis County, collecting cash and checks.
Det. Weir said, "They're small amounts, $5 to $45."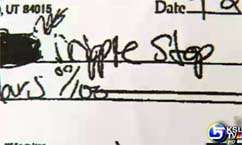 Ellison would even go so far as to have her victims write the check out to Zion's Bank, which is legitimately collecting money for the families. The checks never made it to that bank, though, as Debbie Weaver learned when she printed off her cashed check.
"Where I had written out who the check was for, they had scribbled that out and put the gas station's name in there. In the 'for' box I had written 'for the six trapped miners.' They had scribbled that out," Weaver said.
Weaver is now debating if she should close her checking account. She may have only lost $5, but her trust in others has taken a huge hit.
"It's just terrible that you can't give a little and have it go to the right place," she said.
Ellison could go to jail for up to five years. If you gave a check or gave cash to her, please contact the Roy Police Department.
×
Most recent Utah stories