Estimated read time: 3-4 minutes
This archived news story is available only for your personal, non-commercial use. Information in the story may be outdated or superseded by additional information. Reading or replaying the story in its archived form does not constitute a republication of the story.
Alex Cabrero Reporting The mood in Emery and Carbon counties today is a lot different than it has been in weeks past. That's because rescue operations for six miners trapped in Crandall Canyon mine are over.
Last night officials with the Mine Safety and Health Administration admitted they are out of options. A lot of people felt that would eventually happen, but that doesn't make it any easier for the families of the lost miners.
Now MSHA is beginning the next phase at Crandall Canyon -- the investigation into what happened.
Colin King, an attorney for the families of the trapped miners, said, "I think our family members [think] our trapped miners are going to be in there a long time."
The realization that the Crandall Canyon mine is now a tomb didn't come easy.
"There were quite a few tears in there today," King told us Friday. He said family members of those six lost miners are extremely upset that there will be no more rescue missions. But he also said they're beginning to understand the facts.
"They hate to come to this point. You don't ever want to give up hope for a loved one who is lost and whose fate is uncertain. But they're reaching the end of that point of hope," King said.
MSHA has reached that point and now is focusing on an investigation.
MSHA's Richard Kulczewski said, "Hopefully they'll be able to shed more light on maybe exactly how it happened."
With the mountain shifting, investigators aren't sure if they'll be able to get to the original site of the collapse, but they don't think they'll have to.
"A lot of our investigation has to do with interviews and conditions at that point," Kulczewski said. "The mine plan -- everything -- the history of the mine and on and on."
After the investigation, a recovery mission could be possible.
"I would hope so for the families. I think in our hearts that's what we'd like for them," Kulczewski said.
According to King, "We're not going to give up doing everything we can to get them out sooner or later."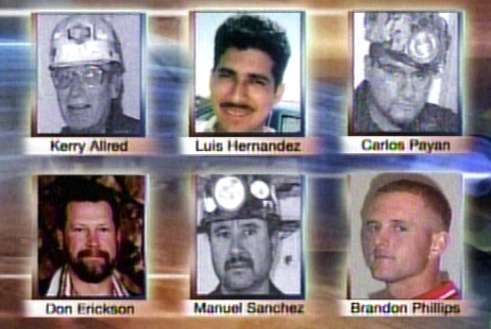 The families' attorney says it's still too early to think about funeral or memorial services for those miners. He also knows any recovery missions -- if there are going to be any -- would take place months from now.
Those six trapped men are Kerry Allred, Luis Hernandez, Carlos Payan, Don Erickson, Manuel Sanchez and Brandon Phillips.
The three men who died in a second collapse while trying to rescue those men were Dale Black, Gary Jensen and Brandon Kimber.
We have a time line of events from the past 26 days of the search.
A mine collapse August 6 trapped six miners in the Crandall Canyon mine. The next day, another bump temporarily shut down rescue efforts.
Crews began drilling the first borehole. That hole reached the mine August 9. There was no response to a listening device sent down the hole.
ON August 16 a second collapse killed three rescue workers and injured six. All rescue operations were suspended.
A sixth borehole broke into the mine August 25, finding nothing. Owner Bob Murray announced the closure of the Tower mine outside Price.
On August 29 crews tried to lower a robot into a previously drilled hole but it got stuck 10 feet from the mine shaft.
Crews finished drilling a seventh hole Thursday and found no signs of life.
Then last night MSHA announced the end of the search.
×
Related links
Most recent Utah stories