This archived news story is available only for your personal, non-commercial use. Information in the story may be outdated or superseded by additional information. Reading or replaying the story in its archived form does not constitute a republication of the story.
SALT LAKE CITY — Ken Yardley has been working the railroads for 38 years, 33 of them as an engineer.
During that time he has been involved in two accidents. Twice in Tooele County he has had semi-truck drivers not paying attention pull their rigs on the tracks just as he's coming through.
"It's scary," he said.
Fortunately, there were no serious injuries in either incident. But others aren't so lucky.
Friday, Union Pacific teamed up with Operation Lifesaver Utah in an effort to educate the public, especially young adults and juveniles, about being safe around trains.
About 450 pedestrians were killed by trains in 2010, according to officials form Operation Lifesaver. Two of those accidents were in Utah. They say according to statistics, a train accident involving a vehicle or pedestrian happens somewhere in the country every three hours.
Recently, there have been several tragedies with Utah ties involving trains.
• A 25-year-old Lehi man was hit and killed by an Amtrak train in Lehi late Thursday. Police say he had been lying across the train tracks.
• Earlier this week, a 17-year-old Colorado State University student from Sandy had both her legs severed by a freight train while trying to hop on the moving train. She slipped and her legs fell under the train.
---
Train hopping is not glamorous, it's not romantic. It's dangerous and illegal.
–Vern Keeslar
---
• On Aug. 19, a 69-year-old man was hit and killed by a TRAX train in Salt Lake City after stepping over one set of tracks, but he apparently didn't see the train coming from the opposite direction on another set of tracks.
• On Aug. 10, a 49-year-old Sandy woman was killed after stepping in front of an oncoming TRAX train in Midvale.
• In June, a 15-year-old girl was killed after being hit by a TRAX train in West Jordan.
Yardley, who today is the engineer for a route between Salt Lake and Elko, Nev., said he has seen "everything and anything out here" over the years.
"They just don't pay attention," he said of people involved in train accidents.
But Vern Keeslar, the state coordinator for Operation Lifesaver, said these accidents can be prevented.
Friday, about 100 people boarded a Union Pacific train in downtown Salt Lake and were taken for a short ride to Tooele while listening to a presentation along the way. The motto of program is "Look, Listen and Live." The theme for this year's Operation Safety program is "Stay off, stay away and stay alive."
As the Union Pacific train traveled at 70 mph next to the Great Salt Lake with community leaders and residents with their children on-board, a member of the Utah Highway Patrol gave a lesson on train safety.
Many accidents happen at railroad crossings because people try to go across as soon as the crossing arm goes up and not when the red flashing lights turn off, said UHP trooper Mason Haycock.
He compared a car being hit by a train to a pop can going under a vehicle's tires. Motorists should consider what the UHP called the "lug nut rule." If the vehicle approaching has more lug nuts than your vehicle, Haycock said the driver should wait for the larger vehicle to pass.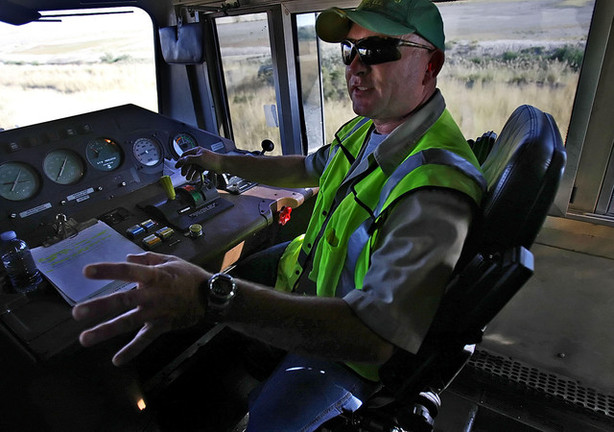 Trains are supposed to sound their horns when they approach intersections. But parts of Salt Lake and Davis Counties have "quiet zones," or areas where trains cannot use their whistles to warn others that they are approaching. It's another reason, Haycock said, why pedestrians and motorists need to be aware of what's happening.
Also Friday, Operation Lifesaver took West High School students on a train ride and educated them about the dangers of trains. Many students cross five sets of tracks everyday at 500 West and 300 North to get to school.
Many students try to climb over or go under trains that are stopped in the intersection, Keelsar said. The other problem is students driving their vehicles around the down crossing arms or not waiting until the red lights at each crossing stop have stopped flashing.
The problem of "train hopping" is growing nationwide, mostly around college campuses, Kesslar said. Keeslar attributed YouTube for part of the increasing popularity.
"Train hopping is not glamorous, it's not romantic. It's dangerous and illegal."
The problem used to be worse in the downtown Salt Lake area, especially among juveniles, he said. But changes over the past few years now allow trains to go faster through the area and most young people don't attempt to hop on.
The railroad industry in general has also been more vigilant about keeping train hoppers off since 9/11, Yardley said.
The Operation Lifesaver program is also required for new drivers seeking to get their licenses.
Haycock said a big educational blitz is planned for Utah County once the commuter train from there to Salt Lake County is completed. He noted that several communities would soon have a very fast moving train going through their areas.
Email:preavy@ksl.com
×
Photos
Related Stories