Estimated read time: 1-2 minutes
This archived news story is available only for your personal, non-commercial use. Information in the story may be outdated or superseded by additional information. Reading or replaying the story in its archived form does not constitute a republication of the story.
Ashley Hayes Reporting The same week children are back in school, opponents of the school voucher program are out campaigning. They want to ensure voters put an end to the proposal during this November election.
Arriving on a school bus this morning, the opponents set up in Liberty Park.
They took turns at the microphone talking about flaws they see in the voucher bill and answering questions from the press.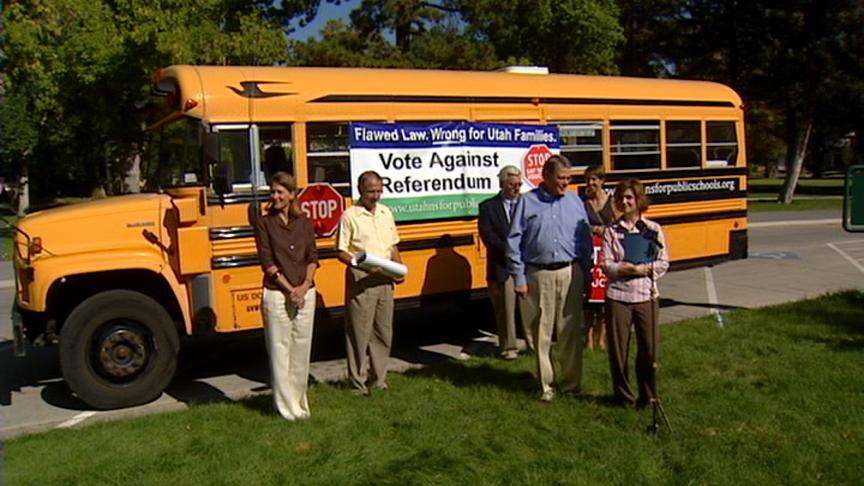 "Utahns for Public Schools" said using taxpayer money to pay for private school education will only hurt the public education system. "There is a right way and a wrong way to do it, and this is the wrong way, and we have yet to come up with legislation that is the right way, and I think the public would be right in voting down this referendum," Rep. Steven Mascaro said.
Proponents of the bill said vouchers will make class sizes smaller while still giving money to public schools. "We have a lot of children to educate. I think that saying 'We don't value education because we don't fund it' is just not true because we have a dilemma that many other states don't have. So I think the voucher program is going to be a win-win situation," explained Leah Barker with "Parents for Choice in Education."
Both sides claim what they want is educated voters come November.
Expect more events and debates like this between now and then.
×
Most recent Utah stories