Estimated read time: 5-6 minutes
This archived news story is available only for your personal, non-commercial use. Information in the story may be outdated or superseded by additional information. Reading or replaying the story in its archived form does not constitute a republication of the story.
SALT LAKE CITY -- Four teenagers, all in cardiac failure, have been drawn together in what has been a most unusual if not rare six weeks for Primary Children's Medical Center.
Though the hospital routinely performs transplants, these four teens between ages 12 and 15 all got new hearts within a six-week timeframe.
Maya Fullmer, 13, Joey Carpio, 15, MiaBella Brickey, 12, and Abby Doman, 12, from different cities in Utah and Idaho, were hit with various forms of heart failure called cardiomyopathy. It happens in children, but only in about one in 1,000 at this age.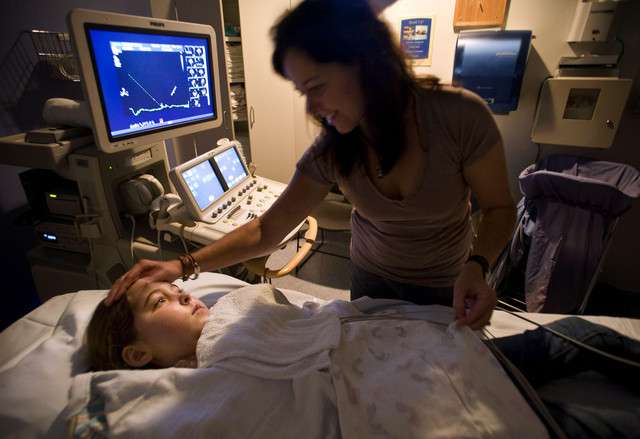 Monday, they sat around the clinic comparing medication regimens, stories from the operating room, bruises from the many pokes and piercings of various IVs and, of course, their scars. They even joked about the names they've been called since the prednisone kicked in, causing their faces to swell.
And then there are the bingo prizes they've won during their hospital stays. A passer-by would never assume each patient has yet to reach the ripe old age of 16.
"Who would have thought a bunch of teenagers would be talking about pills?" Joey said.
Sudden heart failure shocked teens' families
The truth is, Joey is lucky to be alive.
After a couple weeks of feeling stomach pains and vomiting every once in a while, the Idaho teen was rushed to Primary Children's Medical Center via medical jet, where he later received a heart transplant. He waited one month for the new heart and has been rebounding ever since.
What is... Cardiomyopathy?

Cardiomyopathy means "a disease of the heart muscle." It is a chronic and sometimes progressive disease in which the heart muscle (myocardium) becomes abnormally enlarged, thickened and/or stiffened such that the heart can no longer contract or relax normally. Eventually, the heart loses its ability to pump blood effectively and irregular heartbeats (arrhythmias) and heart failure may occur.
"He's doing better than expected, as if he hadn't had a transplant," his mom Mandi said. She didn't expect for it to happen at all, not to mention so quickly.
The story is much the same for three other teens, who also received a second chance at life within the same month or so that Joey did.
Abby says she "went from being 100 percent perfect to being on the transplant list just like that."
She described the sudden change that happened while she was in gym class at school in St. George: "We were just doing our normal warm-up routine and we were at the very end where we're running out line sprints -- 10 times back and forth -- and I just collapsed."
Abby's mom Michelle said, "There were a few little signs, like we thought she had asthma and she was getting headaches, but nothing that would have led us to know that it was heart disease."
"That's something that happens to someone else's kids," said Maya's dad Joe.
Rare heart conditions met with rare results
Two of the four teens were diagnosed with very rare forms of cardiomyopathy, one in which Primary Children's Medical Center has not had to transplant for in about 10 years.
In MiaBella's case, the heart failure was even more rare.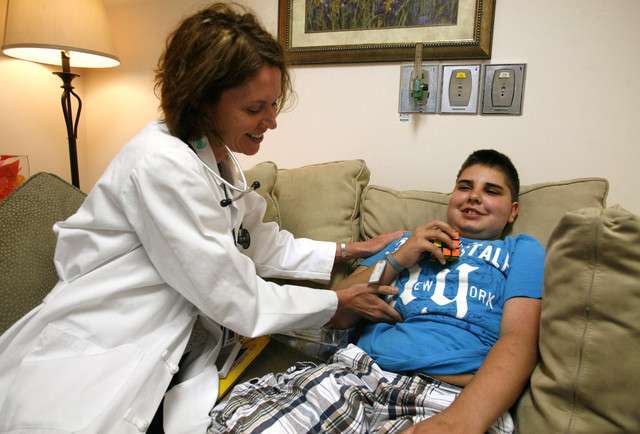 According to Primary Children's cardiologist Melanie Everitt, "MiaBella had giant cell myocarditis, which we had not seen at all at our institution."
The rarity of these two forms of cardiomyopathy were unusual, but equally unusual were how hearts became available for each of the foursome between June 5 and July 12.
When his heart began failing, Joey was placed on medication and stabilized with a life vest until a donor heart was available. Mandi thought the wait of "a little while" might extend to six months or a year.
"I just thought he would be like this, not knowing how long but not expecting a month," she said. "He was only on the transplant list for a month."
MiaBella's mom Heidi said her daughter "got a heart in three days. She was listed on the transplant list for three days, and I consider that pretty fast."
Tragedy gives birth to new life, lasting friendships
MiaBella, Maya, Joey and Abby are all doing very well -- thanks, they say, to donor families who, within their own summertime tragedies, donated within a six-week period.
The bittersweet reality is that summer is trauma season for the hospital, in more ways than one, as the majority of transplants happen when kids are typically more active outdoors and likely participating in more risky activities, said hospital spokeswoman Bonnie Midget.
---
I don't remember much, but I do remember having friends by me to share in it.
–MiaBella Brickey
---
Primary Children's Medical Center Primary Children's cardiac program is one of the best in the business for children in the Intermountain region. More than 600 cardiothoracic surgeries, including 300 open heart procedures and more than 700 cardiac catheterizations, are performed there each year. The outpatient cardiology clinic is open seven days a week and is always bustling, Midget said. Patients return on a dwindling weekly and monthly schedule, based on their individual performance, but all four teens were there Monday for a follow-up visit.
New hearts and a newfound friendship is something these teens hope to keep. Maya and MiaBella have already compared scars. MiaBella's dad Joe said shortly after the transplants "they were both hoarse from the breathing tubes, so they were talking like this," mimicking the conversation in a quiet, hoarse sound. "They showed each other the scars and MiaBella said 'Scars are cool.'"
"I don't remember much but I do remember having friends by me to share in it," MiaBella said.
As she sits with her friends around a table at Primary Children's, Maya said, "It's kind of nice to know that you're not the only person to have gone through this."
"I hope we can all stay in touch," Joey agreed.
Abby echoed, "This is a friendship I hope we won't lose."
"If I could recommend one thing to anyone, it would be for them to be an organ donor," MiaBella's mom Heidi said, adding that she'll definitely be seeking out the donor's family to offer her profound thanks.
"It's the greatest thing you can do with your life. It is passing on the gift of life."
----
Story written by Ed Yeats and Wendy Leonard.
×
Photos
Most recent Utah stories