Estimated read time: 3-4 minutes
This archived news story is available only for your personal, non-commercial use. Information in the story may be outdated or superseded by additional information. Reading or replaying the story in its archived form does not constitute a republication of the story.
KEARNS — Some want to fly in planes, others have asked to twirl with popular Disney princesses or meet up with various celebrities, but 5-year-old Alan Chavez just wants his own bedroom.
Since being diagnosed with Acute lymphoblastic leukemia in 2009, and because of the accompanying and random seizures, the boy who rarely speaks but uses his own kind of sign language to communicate has needed to sleep in close proximity to his parents. He has never had a bed to call his own.
"This is what he wanted," said Mayra Chavez, mother to Alan and two other children. The family was all smiles when they saw the room and its playful accoutrements, including a 32-inch television and an array of DVDs, for the first time.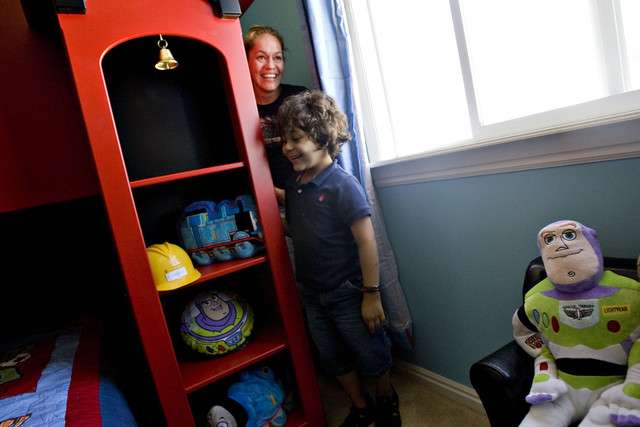 His wish was simple enough and the magical Make-A-Wish Foundation was on hand Wednesday to give the boy, who struggles with the common form of childhood cancer, his heart's desire — complete with a bunk bed shaped like a fire station ("No. 2" to be exact) and Thomas-the-Tank-Engine-blue painted walls.
Alan Chavez's parents have actually given up their master bedroom to accommodate the large bed that he recently picked out from the Make-A-Wish national sponsor, Broyhill furniture company.
"I think he deserves it," his mother said, while fighting back the tears. "He's been through a lot."
As the curly haired 5-year-old bounced from corner to corner of the brightly colored and newly furnished room, it was like he didn't have a care in the world … except which fuzzy, stuffed character he was going to cuddle with that night.
---
We hope to put a smile on their face and help give them strength to continue their battle.
–Katherine Fife
---
"There are a lot of kids out there that are going through some really tough times and deserve to have a break from their medical conditions and all the issues they have to deal with on a daily basis, and this is a moment of joy for them," said Make-A-Wish spokeswoman Katherine Fife. She said Alan Chavez's room is one of about 150 wishes that will be granted this year to Utah children in need of something uplifting.
"We hope to put a smile on their face and help give them strength to continue their battle," Fife said.
The local Make-A-Wish chapter is one of 63 across the country that operates completely on local donations from the communities it serves. Last year was the first time in its 26-year-history that the Salt Lake chapter has run a deficit, but Fife said they "are working by the skin of their teeth to grant as many wishes as they can."
Children ages 2 ½ to 18 years old are referred to the program by physicians or members of the community and then volunteers meet with the family and the child to determine the best wish for them and how to go about granting it. Unless circumstances are beyond their control, the foundation never puts children on a waiting list.
Alan Chavez's room was completed in just one day, but it will likely bring years of happiness to his soul. He spends a lot of the daytime hours indoors, due to the medication he is taking and its contraindications with the sun, but given the new supply of DVDs and things to look at, it is likely he'll be busy in his room until at least the end of the summer.
"He's a really happy boy," said Mayra Chavez. "This is everything he has been asking for."
Email:wleonard@ksl.com
×
Photos
Related links
Most recent Utah stories