Estimated read time: 2-3 minutes
This archived news story is available only for your personal, non-commercial use. Information in the story may be outdated or superseded by additional information. Reading or replaying the story in its archived form does not constitute a republication of the story.
Sandra Yi and Tonya Papanikolas Reporting An 8-year-old girl who lost her parents and sister in a weekend car crash is expected to make a full recovery.
Diana Jo Weaver is still in intensive care, but she may be moved out of that unit tonight or tomorrow. She's awake and breathing on her own, and may be able to go home in a couple weeks. Family members spoke to reporters today.
DJ, as she's known, was orphaned after that car crash this weekend. Relatives say she does know that her parents and little sister are gone.
DJ, her 2-year-old sister Audrey and their parents, Nick and Ruth Weaver, were driving on Interstate 84 near Tremonton Saturday. They were on their way to a family gathering in Idaho when the front left tire of their Dodge pickup truck blew out. The family's truck crossed the median and hit a semi-trailer head-on.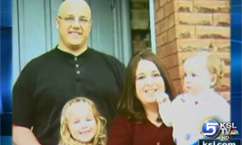 DJ was the only survivor. This afternoon, surrounded by extended family, DJ's aunt and uncle told us that DJ is in serious condition, and asking a lot of questions. They say she remembers the crash.
Relatives say DJ has a lot of family support, but no one can replace her parents.
Mary Jarman, DJ's aunt, said "They were wonderful parents. Nick has described his children as his heroes, and Ruth was just always with her girls, doing fun things and looking for fun things to do with the family."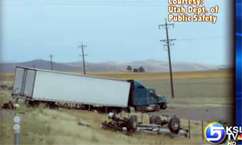 Relatives want Nick and Ruth Weaver to be remembered as fun-loving people, with a great sense of humor. They also tell us DJ is an intelligent, energetic girl. She recently won the title of Ms. Congeniality in a rodeo contest.
Though DJ may have lost her immediate family, her large extended family is doing everything they can to help her through this.
"We're just there when she has questions," said Mary Jarman. "The grandparents are with DJ the most right now and just with her all the time."
While relatives mourn the rest of the Weaver family, they realize DJ's life is a miracle.
"We are fortunate to have a little piece of Ruth and Nick still here, and we're thankful for that," Jarman said.
The family says they're grateful DJ survived and will make a full recovery. She could be out of the hospital in two weeks.
Funeral services have been planned for Friday. There is also a fund for DJ at Wells Fargo bank.
The Utah Highway Patrol says an overinflated tire caused the crash. Tire experts say driving on an overinflated tire is just as dangerous as an underinflated one. They recommend checking your tires' air pressure every month.
×
Related links
Most recent Utah stories