This archived news story is available only for your personal, non-commercial use. Information in the story may be outdated or superseded by additional information. Reading or replaying the story in its archived form does not constitute a republication of the story.
SALT LAKE CITY -- It's not often that police and those they arrest have mutual praise. But that unlikely twist is part of the aftermath of Tuesday's wholesale arrests at the federal courthouse.
"I can't really say enough about the police," said Megan O'Byrne, one of the 26 arrested. "They were really great."
It was one of Utah's biggest mass arrests in years. The protest over the two-year prison sentence for environmental activist Tim DeChristopher could have easily melted down into head-cracking violence. But it didn't.
Salt Lake Police Chief Chris Burbank had praise for both sides. "I'm extremely proud of my people and of those individuals who were here making their point" by rallying at the courthouse,
Cool heads, police training, and a commitment by both sides to avoid a heated confrontation seem to be the ingredients that kept things from boiling over.
---
The situation escalated Tuesday when protesters moved into the street to block traffic.
---
Emotions were certainly running high as speakers rallied the crowd with dramatic declarations. "Consider this the spark that will ignite this movement," one protestor yelled into a microphone. Another roared through a bullhorn, "Let's tell the whole world that we want climate justice."
The rally veered toward the unpredictable when protesters obstructed the courthouse steps and used plastic zip-ties to attach themselves to handrails. But police stood by and did not break it up.
Burbank said his police officers undergo training for protest events, large and small. And the department prepared well ahead of time for protests during DeChristopher's court proceedings.
In an interview the day after the protest, Burbank said, "We've been working all along, throughout the trial as well as through the sentencing process, with the group of individuals and saying, 'Hey, we're here to facilitate you getting your peaceful message out there'."
The situation escalated Tuesday when protesters moved into the street to block traffic. Burbank personally came to the scene to orchestrate the response.
"I mean that becomes a violation of law," Burbank said. "It undermines the well-being and public safety of our community."
O'Byrne, a University of Utah graduate student Megan came to the rally with no intention to be arrested. But when it spilled into the street, she spontaneously joined the street protest.
"It was really sort of a call-to-action moment for me," O'Byrne said, a day after being released from jail. "I had to examine my conscience and say this is something that's very important to me. And if I don't do this, I'm going against my convictions."
As the protesters blocked TRAX trains, cars and trucks, police followed a script that was prepared years ago for possible use at protests during the Winter Olympics of 2002.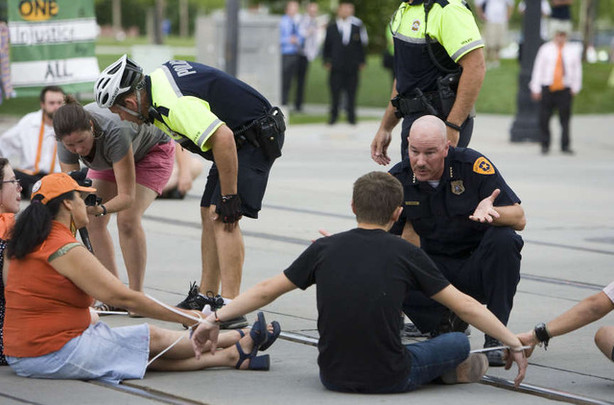 A police officer read a prepared statement, giving protestors a choice. "You must comply with my order immediately," the officer announced. "If you remain you will be arrested!"
"If they're willing to get up and leave, then I'm fine with that," Burbank said. "In this particular case they said 'We want to be arrested.' Well, ok, 'Would you like a citation or would you like to go to jail?"
Megan O'Byrne was one of 26 who chose to be escorted away by police.
Protestors also followed a script of sorts, a code of conduct preached by rally organizers, "Which is that we are very non-violent," according to O'Byrne. "That we will refuse to attack anyone in any way, including verbally."
By her own choice, she was booked into the county jail.
"The police on scene did a really great job," O'Byrne said. "They were very considerate about what we wanted, what we were doing, why we were doing it."
Burbank had his own praise for protesters. "They cooperated with the instructions of the officers," Burbank said. "We had no incidents. In fact, it was the smoothest arrest of 26 individuals that I have ever seen."
When they arrived at the jail, seven of the 26 protestors chose to accept a citation instead of being booked. The rest spent a few hours at the jail, but all were released by 11:00 Tuesday night.
Although Burbank acknowledges some inconvenience to the public, he's glad no one was hurt, and protesters were allowed to make their statement.
×
Photos
Related Stories