Estimated read time: 3-4 minutes
This archived news story is available only for your personal, non-commercial use. Information in the story may be outdated or superseded by additional information. Reading or replaying the story in its archived form does not constitute a republication of the story.
John Hollenhorst ReportingThe death toll is well into the hundreds and still rising after a devastating earthquake in Peru. All Mormon missionaries have been accounted for and are safe. Relief efforts are gearing up around the world and right here in Utah.
This was a stunningly powerful quake. It measured 8.0 and the shaking went on so long, terrified people thought it would never end.
Now, The Church of Jesus Christ of Latter-day Saints is making arrangements to fly a shipment of supplies, and Utah's large Peruvian Community is gearing up.
Since the huge quake struck late Wednesday, many in Utah have been trying to make contact with loved ones. Peruvians in Utah are showing solidarity with those back home. Tony Yapias, Peruvian community organizer, said, "Most of us were devastated by frantically trying to call our families and friends to no avail."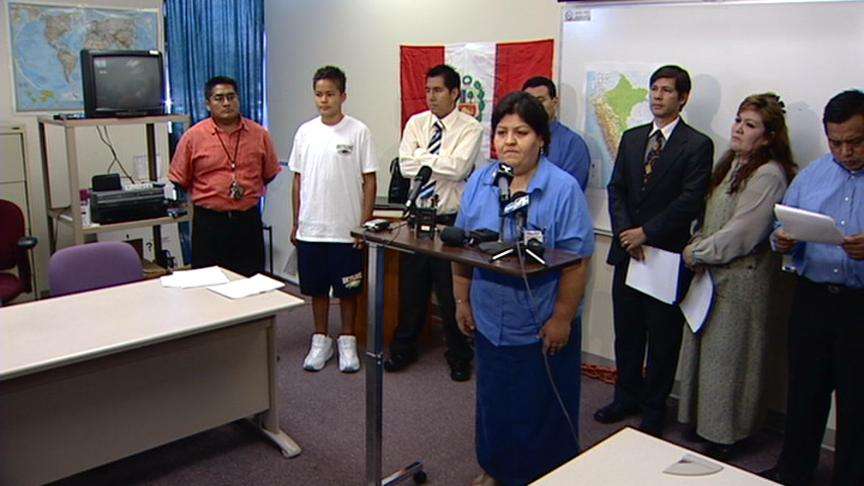 Jose Loayza finally managed to reach his parents. They're in Lima, which was apparently spared any major building collapses. The LDS Temple there was undamaged. Jose Loayza, president of Latin American Chamber of Commerce, said, "But hospitals are crowded with people that have suffered heart attacks and problems of that sort, because it was a very long earthquake, very severe and very scary."
There is heavy damage 100 miles or so southeast of Lima. Thousands are homeless. The death toll is well into the hundreds, including 200 people killed when a church collapsed. "The country right now is going through a state of shock, and there's a lot of panic in the population as well, and so any support that comes from any communities from around the globe is welcome, and it's going to help to see that we are standing by their side in these times of suffering," said BYU international adviser Alberto Puertas.
An estimated 15,000 to 20,000 Peruvians live in Utah. They're appealing for donations of blankets, tents, clothing and money. James Yapias, PPHF Multicultural Learning Center, said, "So you can go to any Wells Fargo in the state and make those donations to the Peru Relief Effort."
"What we're going to do, we're going to have our office open 24 hours, if it's possible, to receive all the help for our brothers in Peru," explained Renetta Coppard from the Latin American Chamber of Commerce.
You can drop off supplies at several locations along the Wasatch Front.
Meanwhile, the LDS Church already has thousands of blankets, tents and other items on hand. It may fly a charter airliner to Peru as early as this weekend.
---
In Salt Lake City Donations can be taken to:
Tony Yapias (801) 577-3200

Poder Para La Familia Hispana
1737 South Redwood Road
Salt Lake City, Utah 84104

or

Renetta Coppard (801) 548-4236
Latin American Chamber of Commerce
c/o Loayza Law Offices
5663 South Redwood Road, Building No. 2
Taylorville, Utah 84123

In Ogden, Donations can be taken to:

David Urtilla Ph: 801-393-5300 Ext.13 Fax:801-393-5500
U.S. Translation Company
1893 E. Skyline Dr. Suite 203
South Ogden, UT 84403

In Provo, Donations can be taken to:

Alberto Puertas (801) 422-9072
1187 North 560 West
Orem UT 84057

Jackeline Shearer (801) 374-2588 or(801) 427-2499
United Way of Utah County
148 North 100 West
Provo, Utah 84603

×
Related links
Most recent Utah stories