Estimated read time: 2-3 minutes
This archived news story is available only for your personal, non-commercial use. Information in the story may be outdated or superseded by additional information. Reading or replaying the story in its archived form does not constitute a republication of the story.
PROVO -- If you work full time, it's a challenge sometimes to squeeze in a doctor's appointment and not miss too much time away from the job. Vivint Inc. headquartered in Provo, Utah has solved that problem by bringing the doctor to the workplace.
Actually, there's a whole medical clinic in the building. If an employee feels like they're coming down with something, they can just walk down the hall.
---
If an employee feels like they're coming down with something, they can just walk down the hall.
---
The Vivint Clinic is headed up by Dr. Michelle Palmer, a family medical physician, along with an assistant. There are three exam rooms, various equipment, and a reception area. Dr. Palmer says it's a full-time, full-service medical facility, available to all 1400 employees and their dependents.
"We offer a variety of things here, from preventative health, child checks, women's health, men's health. We also do acute care, with such things as ear infections, sore throats, strep throat, toe injuries. We also do vaccinations," Palmer says.
Vivint Inc. is one of the largest home automation companies in North America. If you're away from home, Vivint's equipment allows you to adjust the air temperature or turn appliances on or off from your computer or smart phone.
Currently, the company has about 500,000 customers in the U.S. and Canada.
The medical clinic opened in mid-July, and is just another employee benefit at a company that makes benefits a priority. All workers have access to a weight room, full-sized basketball court, a large cafeteria where all meals are free.
Flat screen TV's, ping pong and pool tables are also located in the eating area. Vivint Inc. is definitely "work hard and play hard" culture.
This is a culture put into place by owner Todd Pedersen.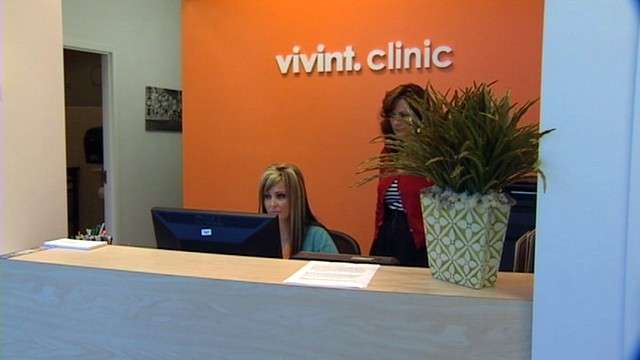 "He wanted a casual workplace", says Human Resources Director Keith Grames. "But there's an expectation that you'll get your job done also."
Workplace medical clinics, though rare, are an increasingly frequent part of a business model. One reason, says Grames, is increasing medical premium costs.
"We, as a company, wanted to do something about that. We wanted to get a ahead of the curve and actually start controlling costs, and by having our own on site doctor providing care, we found that we were able to provide family practice, general practice type of care for about half of the cost."
Not to mention the convenience, Dr. Palmer adds.
"Even if it's just for routine physicals, or they get a cold and they want to make sure it's nothing worse, it's really nice. It reduces the time away from work and improves productivity at work."
×
Photos
Related links
Related stories
Most recent Utah stories