Estimated read time: 4-5 minutes
This archived news story is available only for your personal, non-commercial use. Information in the story may be outdated or superseded by additional information. Reading or replaying the story in its archived form does not constitute a republication of the story.
ELKO, Nev. — The best friend of a slain West Wendover High girl said Wednesday that a man accused of killing her was sending unusual text messages to her on the day she disappeared.
The testimony came during a preliminary hearing for Toni Fratto. Both Fratto, 19, and Kody Lee Patten, 18, are charged with killing Micaela "Mickey" Costanzo, 16, and burying her body in a shallow grave in the desert.
Fratto, wearing a blue jail jumpsuit, handcuffs and shackles, sat quietly in her chair in the small basement courtroom at the Elko County Courthouse during Wednesday's hearing. She said nothing, and many times appeared to be staring straight ahead and not looking at the witnesses. Her parents sat in the audience behind her.
Tiffany Rasmussen, 17, testified that on March 3, 2011, Patten had been sending numerous text messages to Micaela — something she described as "very unusual."
Micaela and Patten had dated at one time, but Tiffany said the two had barely spoken to each other in more than a year and Micaela didn't even want him around her any more.
In describing the texts, Tiffany said: "He was wanting to do a project" with Micaela. But she said Patten didn't mention in the texts what the project was.
"She was just as confused as I was," Tiffany said of Micaela.
Preliminary Hearings
Toni Fratto -- July 13-14
Kody Patten -- Aug. 2-3
Wendy Murphy knows both Fratto and Patten. She testified that she loaned her white SUV to Patten earlier that day because he said he needed to move some wood and metal from school. He was supposed to return the vehicle by 5 p.m. But by 5:45 p.m., Murphy, who needed to get to her son's basketball game, texted Patten to ask where he was.
"He said he was not finished," Murphy recalled. "He said, 'I'm still moving things.'"
It wasn't until 8:45 p.m. that Patten returned with Murphy's vehicle. By that time, he had Fratto with him.
When police searched Murphy's SUV in subsequent days, they found a clothes wire and a used bar of soap, she testified. Both were items that were not in the vehicle when she loaned it to Patten, she said.
Although there is a low standard during a preliminary hearing in determining if there is enough evidence to bound a case over for trial, the Elko district attorney has 21 potential witnesses listed for the preliminary hearing. The defense has none.
Although the preliminary hearing is for Fratto, the majority of questioning during the first half of Wednesday's hearing focused on Patten. Teachers from West Wendover High School established that Patten was seen at the school about 5 p.m. hanging around the hallway near the metal shop and the locker rooms. School surveillance video of Patten walking in the hallway, and later Micaela walking in the hallway, was shown during the hearing.
Micaela's mother, Cecelia Costanzo, gave the most emotional testimony of the morning. She cried as she held the plastic evidence bag that contained her daughter's house key and charm that hung from the lanyard she used as a key ring. On the key chain was a charm of a panda bear with the word "Buds." Tiffany has a matching charm that says "Best."
She also became emotional when prosecutors showed her photos of her daughter's backpack, which had been found near her body.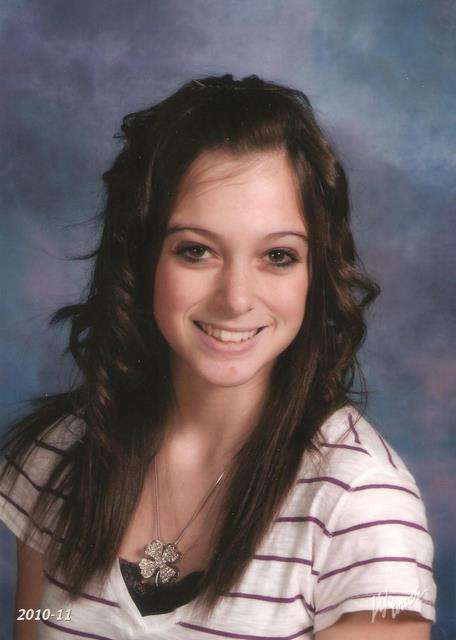 Micaela's mother said Patten and her daughter were good friends when they were both younger. But she said she didn't know Fratto.
Several members of Micaela's family and Fratto's family attended the hearing, which is taking place in a small basement courtroom in Elko. The small courtroom was standing room only.
On March 3, prosecutors say Patten picked up Micaela, drove her to a remote area in the desert about five miles outside of town, killed her and buried her in a shallow grave. Micaela's body was found following a large search of the area.
Patten was arrested and charged him with open murder. But nearly a month after his arrest, in a shocking announcement during his court arraignment, defense attorneys for Patten announced they had an audio taped confession from Fratto, 19, saying that she was also responsible for Micaela's death. She was subsequently charged with the same crime.
Both Patten and Fratto claimed to investigators that they pushed Micaela to the ground during an argument, she bumped her head and Micaela was then hit over the head with a shovel.
Witnesses said Patten and Fratto were dating.
Questions immediately arose after Fratto's arrest about whether the confession was sincere and whether Fratto would recant it.
During court hearings in June, a judge ruled that the alleged confession would be allowed to be presented as evidence during Fratto's preliminary hearing. A judge also split the preliminary hearings of Fratto and Patten so they will not appear together.
Patten's preliminary hearing is scheduled for Aug. 2. Fratto's is scheduled to continue Thursday.
Email:preavy@ksl.com
×
Photos
Related stories
Most recent Utah stories