Estimated read time: 2-3 minutes
This archived news story is available only for your personal, non-commercial use. Information in the story may be outdated or superseded by additional information. Reading or replaying the story in its archived form does not constitute a republication of the story.
SALT LAKE CITY — More than two-thirds of Utahns say they plan to take a vacation this summer, but gasoline prices will have an impact on those plans, according to a poll conducted for the Deseret News and KSL-TV.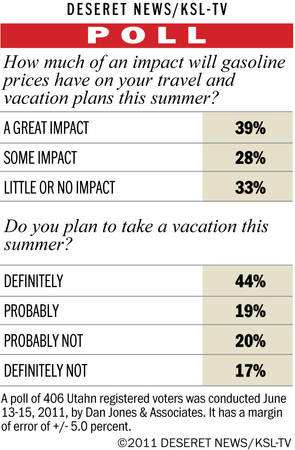 Pump prices have fallen since the survey was taken and AAA reports they are down from last year's Independence Day holiday weekend.
But AAA says consumers still consider gasoline prices high and their added concerns about the economy would likely result in more families staying closer to home during the holiday weekend.
"Travelers are definitely feeling the budgetary squeeze this year," said AAA spokeswoman Cynthia Harris. "Although some Mountain West residents may be postponing their travel plans, many others are bucking the economic headwinds by opting for shorter vacations and by cutting back on travel expenditures in order to afford a weekend getaway."
A Dan Jones & Associates poll found 67 percent of those surveyed said gasoline prices would have some or a great impact on their travel and vacation plans this summer. Even so, 63 percent said they would probably or definitely take a vacation this summer. Only 37 percent said they would probably not or forgo time away this travel season.
But, of those who said they would definitely or probably travel, only 45 percent said high gas prices would cause them to vacation closer to home. And 69 percent said they would opt to drive, while 21 percent said they would fly.
The poll surveyed 406 Utahns on June 13-15 and had a plus or minus 5 percent margin of error.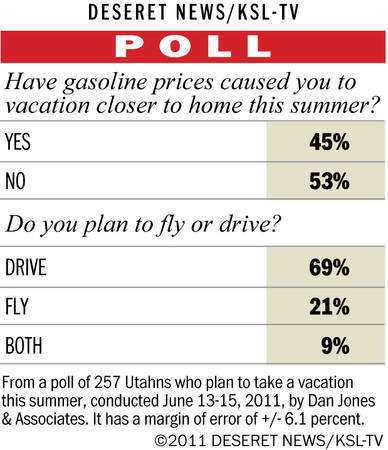 AAA's Fourth of July travel forecast survey revealed that high fuel prices, unemployment concerns and the continuing sluggish economy have contributed to a decrease in overall travel plans throughout the Mountain West region for this upcoming Fourth of July weekend.
The AAA report stated that more than 2.9 million Mountain West residents are projected to travel 50 miles or more from their homes over the holiday — a 2.4 percent decrease compared to last year.
According to AAA, Arizona, Colorado, Montana, Nevada, Utah and Wyoming make up the six-state Mountain West region.
Nationally, AAA forecast that just over 39 million people will travel 50 miles or more during the Fourth of July holiday weekend, down 2.5 percent from 2010.
Independence Day holiday airfares are expected to increase by 11 percent, with the lowest round-trip rate averaging $213 per ticket to top 40 U.S. air routes, according to the AAA Leisure Travel Index. Hotel rates at AAA-rated Three Diamond lodgings are expected to increase by 3 percent this year over 2010, averaging $147 per night. Weekend car rentals are also forecast to increase by 3 percent.
A Mountain West family of four is expected to spend an average of $1,041 over the weekend, while the average road trip will cover 751 miles, AAA reported.
Email:jlee@ksl.com
×