Estimated read time: 2-3 minutes
This archived news story is available only for your personal, non-commercial use. Information in the story may be outdated or superseded by additional information. Reading or replaying the story in its archived form does not constitute a republication of the story.
SANDY — A group of horsemen led the way through a newly-unveiled pedestrian tunnel on Tuesday, passing safely under the traffic at 1300 East and Dimple Dell Park.
Congressman Jim Matheson joined Sandy Mayor Tom Dolan and other city leaders at the ribbon-cutting ceremony. The tunnel is part of a $33.7 million reconstruction project of 1300 East, financed by a combination of local, state and federal funds.
Dolan joked that the orange construction barrel had become the symbol of Sandy City.
"Those days of the orange barrel are mostly over," he said. "When it's over, we'll have the finest road system of the Wasatch Front."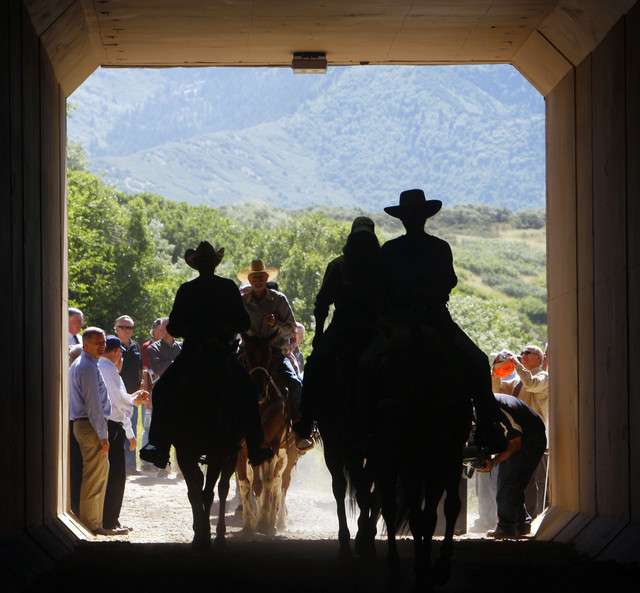 The reconstruction project has sought to improve 1300 East, Sandy's main arterial road with 45,000 trips each day. Among the renovations are turn lanes, energy efficient street lights, sound walls and the new tunnel at Dimple Dell park, which paves the way for a trail system that will eventually connect the Bonneville Shoreline Trail with the Jordan River Parkway, Dolan said.
Dolan, currently serving his fifth term as mayor, said the tunnel and road project have been discussed since 1998, if not longer. Given the scale of the project, Dolan said it may have never seen fruition without the efforts by Matheson, Democrat, at the federal level.
"He really was someone that steered this project through for us," Dolan said.
Matheson commended city leaders for their planning and joked about Dolan's decades-long push for the project.
"When I met him," Matheson said, "I almost thought his name was Tom '13th East' Dolan."
Matheson kept the accolades coming, saying Sandy's leadership was among the best of all the cities in his congressional district.
"This is one of those good days because these things don't come easy," Matheson said. "It's a very professional city that does everything right."
City Councilman Chris McCandless said the tunnel would provide an east-west connection that has been sought in the community. He invited those present to take advantage of the hot summer weather by going for a hike and thanked Dolan for his leadership.
"For 20 years he's been doing projects like this, banging the drum to make Sandy better," MCandless said.
The tunnel is open to all non-motorized users, Dolan said. While more extensions are planned, the tunnel creates an uninterrupted path from Wasatch Boulevard to State Street.
Email:benwood@desnews.com
×
Photos
Related Links
Related Stories