Estimated read time: 4-5 minutes

This archived news story is available only for your personal, non-commercial use. Information in the story may be outdated or superseded by additional information. Reading or replaying the story in its archived form does not constitute a republication of the story.

Carole Mikita Reporting Latter-day Saints throughout the world are mourning the passing of a beloved leader. President James E. Faust died at his home just after midnight, his family was at his side.

President Faust was second counselor in the First Presidency of The Church of Jesus Christ of Latter-day Saints for more than 12 years. He is being remembered as a man of wisdom, warmth and kindness.

Sheri Dew, CEO of Deseret Book, said, "I think he's brilliant and I think his brilliance really came through in gentle ways."

Elder James E. Faust became one of President Hinckley's counselors in 1995. Behind him was a lifetime of experience in law, justice and politics, and in service to all people.

Many people, whether church leaders or members, have fond memories of him and talk of his importance beyond his faith.

Click Play above to view President Faust's last General Conference talk - April 07

Elder M. Russell Ballard, of the church's Quorum of the Twelve Apostles, said, "In the 32 years that I've been a general authority, we've not had anyone in the leadership councils that has loved people any more, or served any more diligently or with any more heart than has James E. Faust."

Reid Wuthrich said, "He was a fine man. We lost a good member of the community and a great leader in the church."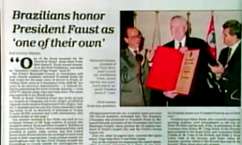 Kathy Harvey told us, "He was a wonderful man, was a wonderful asset to the church, and we'll really miss him. My condolences to the family."
Church members tell KSL the last talk President Faust gave during April's General Conference will long be remembered. The message: the healing power of forgiveness. President Faust began the talk with the story of the Amish in Pennsylvania who endured an horrific tragedy with the shooting deaths of five girls and wounding of five others in Oct. 2006. The gunman was a milkman, who then killed himself.
President Faust said, "Amish leaders visited the milkman's wife and children to extend their sympathy, their forgiveness, their help and their love. About half the mourners at the milkman's funeral were Amish. In turn, the Amish invited the milkman's family to attend the funeral services of the girls who had been killed."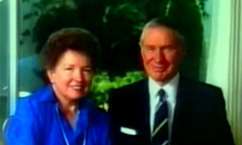 Pres. Faust was born in Delta, Utah. He was an attorney by profession. He graduated from the University of Utah with a bachelor's and Juris Doctor degree. He began the practice of law in Salt Lake City and continued until his appointment as a general authority of the Church in 1972. He was an advisor to the American Bar Journal, and president of the Utah Bar Association from 1962 to 1963.
President Faust was a representative in the Utah Legislature. He also served in the U.S. Army Air Corps during World War II. President John F. Kennedy appointed him to the Lawyers' Committee for Civil Rights in 1962.
He served a mission for The Church of Jesus Christ of Latter-day Saints in Brazil.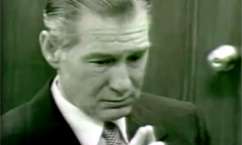 In 1998 President Faust received a Brazilian national citizenship award. That honor is given only to a select few world leaders. He was awarded honorary citizenship of the city of Sao Paulo. That is something he was very proud of, because he loved the people of Brazil, had fond memories of his time there and traveled there often. Elder M. Russell Ballard, of the Quorum of the Twelve Apostles, said, "One of the great highlights of his life, he just kept going, he just kept doing. He did that, Carole, right up until the very end."
He married Ruth Wright in the Salt Lake Temple in 1943. To her he gives the credit for their success. "Upon the wind of her spirit have my wings been carried," he once said.
Dew said, "Elder and Sister Faust together epitomize human kindness."
In recent years, with health declining, he delivered his conference addresses seated. That did not detract from the power of his message. "With all my heart and soul I believe in the healing power that can come to us as we follow the counsel of the savior to forgive all men."
President Faust is survived by his wife, five children, 23 grandchildren and 10 great-grandchildren.
President Faust's funeral will be Tuesday at noon in the Salt Lake Tabernacle. Doors will open at 11:00 a.m. Overflow seating will be available is in the Conference Center and Assembly Hall. You can also watch the funeral service live on KSL-TV beginning at noon.
×
Photos
Related links
Most recent Utah stories