Estimated read time: 4-5 minutes
This archived news story is available only for your personal, non-commercial use. Information in the story may be outdated or superseded by additional information. Reading or replaying the story in its archived form does not constitute a republication of the story.
Resumes are finally starting to craft their 21st century indentities through a variety of new and innovative methods. In place of droll chronological text-based resumes, prospective job hunters are frequently turning to new advances in technology to advertise their portfolios, recommendations and experience.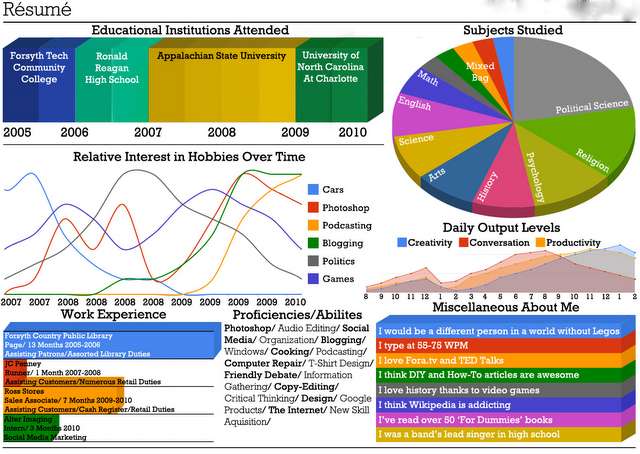 One interesting trend is the innovation of the infographic resume. Rather than a traditional resume that conveys no visual cues, individuals have begun to replace words with symbols. Typical of a society where most communications are now limited to 160 characters, both on and off the web, this trend is not surprising. On a standard resume a recruiter will go through, reading various descriptions and highlighting or circling words and terms that are relevant to the position they are looking to fill. On an infographic resume, very few words are used and the message is instead conveyed pictorially. This makes it far easier to see trends and concepts at a glance without needing to analyze the text in detail.
The advantages are endless. Instead of spelling out the name of the university that was attended, a school logo or crest can be put in its place. To indicate having graduated with a doctorate degree, a stethoscope can be superimposed over the logo. Even if the doctorate was not in a medical field, the meaning of the degree will still be conveyed through the use of a commonly recognized symbol. To demonstrate having worked at a restaurant, an icon of a fork and spoon or a plate could be selected. To indicate more complex positions or roles within a company a single word or two can be added under the icon that describes the nature of the role or responsibility held.
Infographic resumes are not a perfect cure-all solution to the job search, however. Some of the minutiae will be sacrificed in the process of replacing words with icons. There are certain concepts that simply cannot be expressed exclusively through visual depictions.
In reviewing resumes, some hiring managers have also indicated that the new designs can be annoying, while others have praised the new formats. Gregory Dizzia, a job hunter who found success with his infographic resume, has experienced mixed reactions from different individuals. Elaborating on the varied responses, he stated, "When shown to people in creative positions I get a much better reaction than if I show it to seasoned HR vet."
An infographic resume can never serve as a complete replacement for a traditional resume, but can serve as a strong complement instead. Gregory Dizzia recommends submitting a traditional text-based resume in connection with an infographic resume. This allows computerized systems to appropriately process and interpret the resume while also pandering to the whims of the various hiring managers and their respective backgrounds.
A non-traditional resume immediately elevates the applicant against their competitors when capabilities are roughly equivalent. When a recruiter is reviewing a stack of resumes, many reference having stopped and spent additional time reviewing an infographic resume. The value, according to Chris Perkins who frequently reviews resumes as part of his job responsibilities, is in the effort expended to add that level of creativity. "I think that an attention-getting resume is more valuable than a [curriculum vitae] that expresses a detailed outline of a candidate's experience. I want someone to come to me and express that they can work hard at something, mostly themselves before I consider them further."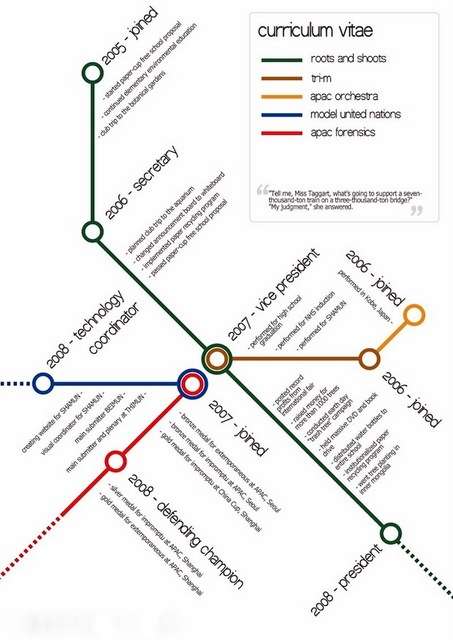 There is no clear distinction outlining which industries and professions are best suited for infographic resumes. They were originally created by designers looking for graphic art positions who hoped to showcase their work without needing to include a separate portfolio. Their use has spread rapidly, however, and can find application in many different industries.
Given the infancy of the infographic movement, it can be hard to find assistance in the beginning stages. No software programs exist yet to magically create an infographic resume at the push of a button. While there are a few templates available, they are fairly rudimentary and require skillful modification. Software such as Adobe Photoshop and Adobe Illustrator were frequently mentioned by job seekers who had built an infographic resume as being fundamental to the design process.
Even if a full-fledged infographic resume is too difficult to create from scratch or appears too daunting to tackle, combining elements or ideas from the infographic movement can help provide a nice hybrid median. Review the various infographic resumes that have been posted to the web in order to develop tricks and see what has worked for others. It does not require a professional graphic designer to add life to a resume. In a cut-throat environment, the extra notice that stands to be gained may be all it takes to land the next big dream job.
Joseph Irvine is a self-employed computer engineer in Madison, Alabama. A graduate of Utah State University, he hopes to pursue a degree in law at BYU in the near future.
×
Related links
Most recent Utah stories